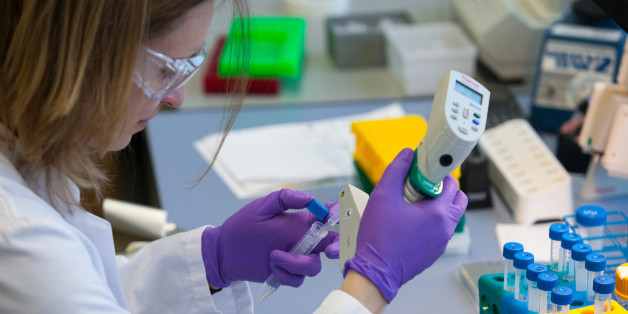 Pew Research finds the public at odds with science on a list of key issues. Desire for a decrease in immigration is lower than it was during the Bush years. And Afghans aren't comfortable with the shrinking number of U.S. troops in their country. This is HuffPollster for Friday, January 30, 2015.
PEW RESEARCH EXPLORES THE PUBLIC'S VIEWS ON SCIENCE - Cary Funk and Lee Raine: "Science holds an esteemed place among citizens and professionals. Americans recognize the accomplishments of scientists in key fields and, despite considerable dispute about the role of government in other realms, there is broad public support for government investment in scientific research...[For example] 79% of adults say that science has made life easier for most people and a majority is positive about science's impact on the quality of health care, food and the environment...[and] About seven-in-ten adults say that government investments in engineering and technology (72%) and in basic scientific research (71%) usually pay off in the long run. Some 61% say that government investment is essential for scientific progress, while 34% say private investment is enough to ensure scientific progress is made." [Pew]
Finds huge gap between the views of the public and scientists on science issues - Seth Borenstein: "The American public and U.S. scientists are light-years apart on science issues. And 98 percent of surveyed scientists say it's a problem that we don't know what they're talking about. Scientists are far less worried about genetically modified food, pesticide use and nuclear power than is the general public, according to matching polls of both the general public and the country's largest general science organization. Scientists were more certain that global warming is caused by man, evolution is real, overpopulation is a danger and mandatory vaccination against childhood diseases is needed. In eight of 13 science-oriented issues, there was a 20-percentage-point or higher gap separating the opinions of the public and members of the American Association for the Advancement of Science, according to survey work by the Pew Research Center. The gaps didn't correlate to any liberal-conservative split; the scientists at times take more traditionally conservative views and at times more liberal." [AP/HuffPost]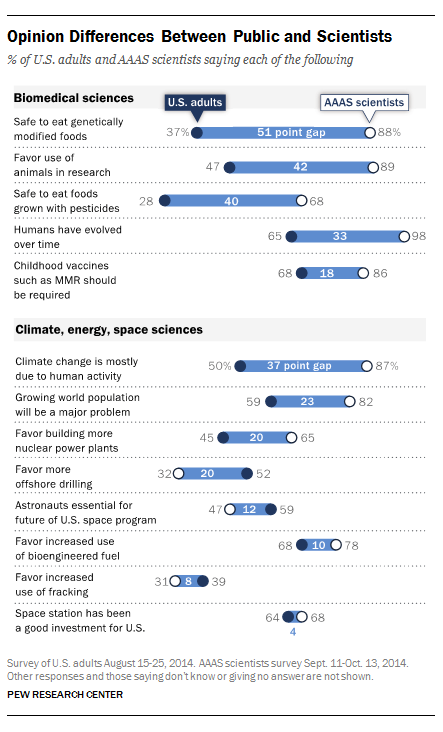 Why Pew Research is going deeper on science - Lee Raine: [T]oday's publication marks a more formal commitment to studying the intersection of science with all aspects of society – from public opinion, to politics and policymaking, to religious and ethical considerations, to education and the economy...We hope to explore that and to understand more fully how news and information about scientific activities makes its way to citizens, how they understand it, and how, in some circumstances, they contribute to it. In the coming months, [Pew Research] will release more findings from our surveys of the public and scientists. A forthcoming report will provide a detailed analysis of the partisan and ideological differences that underlie some of the disputed policy areas. Another will pay particular attention to how people's spiritual views and practices are tied to these issues. And yet another will look more directly at issues related to Americans' general knowledge about science phenomena, updating previous research we have done about citizens' science literacy." [Pew]
POSITIONS ON IMMIGRATION LEVELS MOSTLY STEADY - Andrew Dugan: "As congressional Republicans weigh whether to file a lawsuit against President Barack Obama for his executive actions on immigration, 60% of Americans say they are dissatisfied with the level of immigration into the country today...In a follow-up question that queried Americans who are dissatisfied with the current levels of immigration, the majority -- 39% of U.S. adults in total -- said they would like to see the level of immigration decrease. This ranks among the lowest level of Americans who are dissatisfied and express a desire for less immigration since Gallup began asking the question in 2001, even if it is nominally higher than last year's 35%. The share of Americans who are dissatisfied and want more immigration (7%) was unchanged from 2014. Fourteen percent of Americans said they were dissatisfied with the current level of immigration in the country, but did not express a specific preference for either increasing or decreasing it." [Gallup]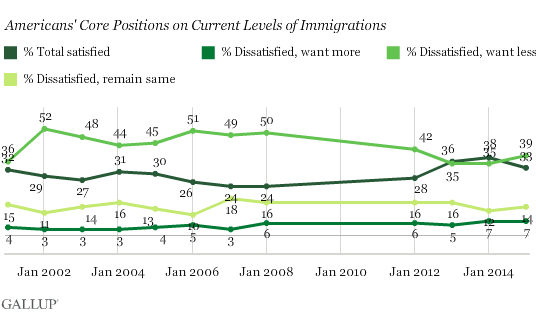 AFGHANS WANT GREATER U.S. INVOLVEMENT NEXT YEAR - Sudarsan Raghavan: "Many Afghans would like to see a greater American role after this year than is planned, while a majority believe that last year's runoff election that led to a U.S.-brokered power-sharing government was 'mostly fraudulent'... 46 percent said they want to see a greater commitment by U.S. forces than is in place. The United States and its NATO allies withdrew most of their forces last year and have roughly 13,000 troops in Afghanistan. The U.S. contingent is expected to shrink to about 5,000 by the end of the year...In recent weeks, senior Afghan officials have also indicated that they would like to see a greater U.S. presence after this year. Only 29 percent of Afghans said they prefer that fewer or no U.S. troops remain…Two-thirds of Afghans favor a significant role for U.S. and international forces in training Afghan forces in the future." [WashPost, Langer Research]
A HISTORY OF DISCOMFORT WITH FEDERAL DEFICITS - Kathleen Weldon: "In 1940, "People's Research asked Americans if it was important for the federal government to balance the budget in the next two years. Fifty-seven percent agreed, while 30 percent said no…Since [1973], in poll after poll, strong majorities of Americans have agreed that balancing the budget is important. However... [w]ith the introduction of a wider set of possible problems, the federal budget deficit dropped out of the top slots for several years. Since the recession, however, it has consistently been the second most-chosen top economic problem, behind unemployment... Americans' concern about the budget has always been shot through with a strong dose of skepticism for the likelihood of actually achieving a balanced budget and reducing the deficit...Though the public has often been willing to postpone or forego tax decreases to achieve a balanced budget, generally they prefer spending cuts, or spending cuts coupled with tax increases, to tax increases alone as an approach to balancing the budget... The most recent such question from CBS News/NYT in February 2014 shows attitudes have changed somewhat: 4% preferred only tax increases, 29% only spending cuts, and 65% both." [HuffPost]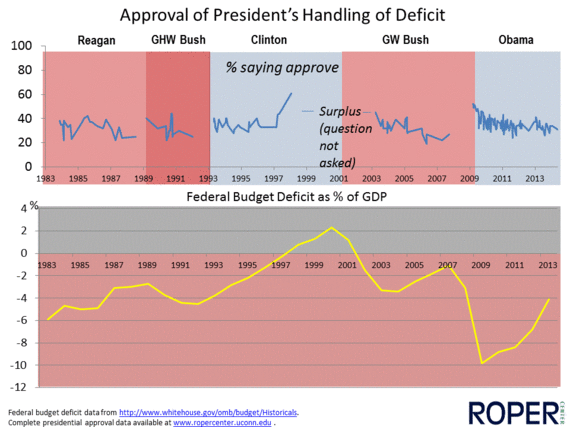 HUFFPOLLSTER VIA EMAIL! - You can receive this daily update every weekday morning via email! Just click here, enter your email address, and click "sign up." That's all there is to it (and you can unsubscribe anytime).
FRIDAY'S 'OUTLIERS' - Links to the best of news at the intersection of polling, politics and political data:
-Most Americans say the news media should not show images of ISIS beheadings. [University of Delaware]
-Forty-five percent of Americans favor allowing foreign export of domestic oil. [Reuters, Ipsos]
-Romney remains at the top of the GOP field, while Clinton leads Democrats. [Fox News]
-Iowa's heavily evangelical Republican caucus goers won't pick the 2016 nominee, Amy Walter predicts. [Cook Political]
-Dylan Scott takes a closer look at polling finding that millions of people may wrongly think they're ineligible for Obamacare. [TPM]
-Republicans are not wild about Sarah Palin. [538]
-Annie Petit posts audio of her debate the use of the margin of error with non-probability panels. [Peanut Labs]
-Chris Jackson explains how Ipsos models and selects likely voters. [Ipsos]
-Derek Willis explains why it's challenging to target online political ads. [NYTimes]
-Here's a poll pitting Punxsutawney Phil against Congress. [PPP]
BEFORE YOU GO
PHOTO GALLERY
Politicians' Science Gaffes