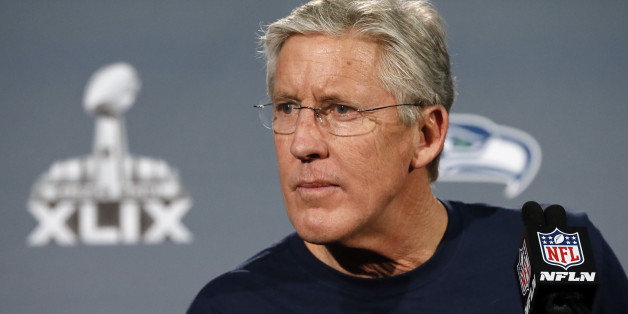 New Englanders might not be Pete Carrolls' biggest fans this week, but he apparently has lots of support from 9/11 "truthers" going into Super Bowl XLIX.
In 2013, Deadspin published a piece about Carroll's alleged truther ideology. The Seattle Seahawks' head coach reportedly met with retired general and Seahawks fan Peter Chiarelli in 2012; Chiarelli led U.S. troops during Operation Iraqi Freedom II and the conversation allegedly turned to Iraq, with Carroll questioning the government's account of the attacks on September 11, 2001.
"Every 9/11 conspiracy theory you can think of, Pete asked about," former NFL linebacker Riki Ellison, who was at the meeting, told Deadspin. "And he didn't stop at 9/11 -- he had lots of questions about the role of the military today... Pete grew up in California during Vietnam, and during Watergate. That's just the perspective he brings to the table."
Last year, truther Matt Mills rushed the stage during a press conference after the Seahawks' Super Bowl win to tout his view that 9/11 was planned by the U.S. government. Mills, who lives in Brooklyn, recently told USA Today Sports that "the implied support of Pete Carroll does help our cause. Every single 9/11 skeptic that I have ever spoken to has great respect for him."
On Tuesday, when asked about his truther fans, Carroll responded: "Any notoriety is good, I guess. I will always be interested in the truth, yeah."
BEFORE YOU GO
PHOTO GALLERY
2015 Super Bowl Commercials