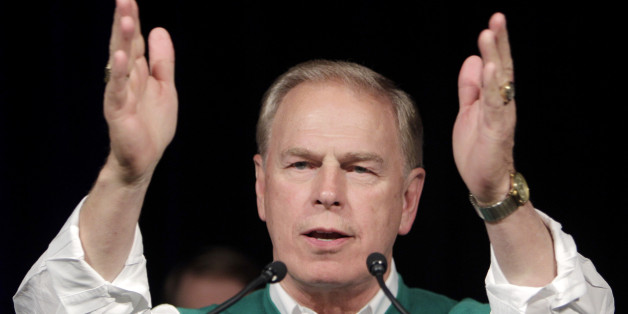 Former Ohio Gov. Ted Strickland (D), who once told The Huffington Post that he had "no plans for the Senate," now, apparently, has had a change of heart.
On Friday, The Vindicator, a daily newspaper in Youngstown, Ohio, reported that sources close to Strickland said he was serious about challenging Sen. Rob Portman (R-Ohio) in 2016 and would announce his bid in mid-February.
Strickland currently serves as president of the Center for American Progress Action Fund, the political arm of the liberal think tank Center for American Progress. He lost his re-election bid in 2010 to Gov. John Kasich (R).
Strickland has been a champion of populist policies like raising the minimum wage and has accused some corners of the Democratic Party of having "intellectual elitism" that hinders the party from advancing progressive priorities.
Though President Barack Obama won Ohio in both 2008 and 2012, the state has proved tough for Democratic candidates in midterm election years. Strickland will have some catching up to do on fundraising, as Portman already has nearly $6 million in his re-election account.
P.G. Sittenfeld, a 30-year-old who's a member of the Cincinnati City Council, announced earlier this month that he will run in the Democratic primary for the Senate seat. Rep. Tim Ryan (D-Ohio) is also considering a run, though he may put off a bid given the Strickland news.
Republicans responded to the possibility of a Strickland run by pointing to his economic record as governor.
"Ohio families still haven't recovered from Ted Strickland's tenure -- under Strickland's misguided policies and failed leadership, Ohio lost over 350,000 jobs and was 48th in job creation," National Republican Senatorial Committee spokeswoman Andrea Bozek said in a statement Friday. "Ohio can't afford to go back to those days, and that's why we'll do everything possible to help the Buckeye State keep Rob Portman as Senator."
BEFORE YOU GO
PHOTO GALLERY
John Kasich