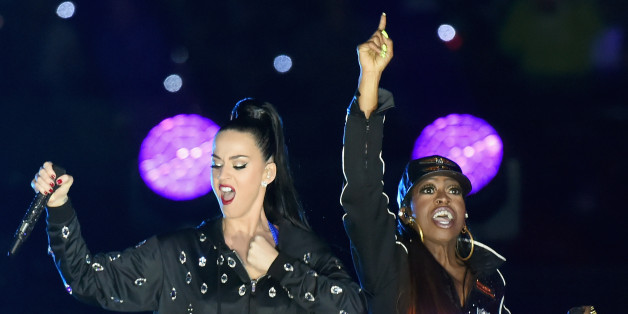 The 2015 Super Bowl is in full swing. Marshawn Lynch is eating skittles, Kim Kardashian is taking selfies and touchdown dances are happening. Whether you haven't been tuning in or just want to relive the magic, check out how the game is looking gif-wise.
Idina Menzel sings the national anthem

John Legend Performs "America The Beautiful"

Coin toss time

Jeron Johnson's penalty

Kate Upton's "Game of War" commerical

Interception!

And another view of that interception

Kim Kardashian's big tragedy

Kim K takes a tennis selfie

Budweiser puppy!

Touchdown!

Touchdown dance

Marshawn Lynch eating skittles

Touchdown!

Coca Cola's "No one likes U" commercial

Hi John Travolta

Steven Tyler chews with his mouth open

Gronk touchdown!

Chris Matthews touchdown!

Tom Brady is stunned

Hellooo Katy Perry

You're gonna hear her roar ...

... And she's comin' at you like a dark horse.

"Kissed A Girl"

"Teenage Dream"

More "Teenage Dream"

And even more "Teenage Dream"

Missy Elliot showed up

"Firework" begins ...

... And gets super pretty intese

She's shooting across the sky!

Even more "Teenage Dream"

Touchdown!

SHARK!

Katy Perry vs. Shark

Now those are some moves

Touchdown!

TOUCHDOWN!

Oops

CRAZY. CATCH.

Oh, a fight broke out

Excitement ... and defeat

Winning!

Yeah, The Patriots won

Check back for more gifs as the game goes on!
BEFORE YOU GO
PHOTO GALLERY
Super Bowl XLIX