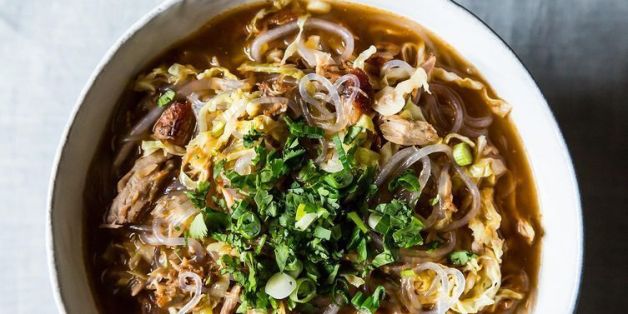 We really love an underdog -- and when it comes to cruciferous vegetables, cabbage definitely fits the bill. Cabbage's cousins, Brussels sprouts and kale, have been painting the town red this winter on fancy menus, in roasting pans, flash fryers and the hearts of the public. Cabbage, quietly waiting until its St. Patrick's Day parade alongside the corned beef and potatoes, is around all winter too, but rarely begs for attention. Cabbage, we'd like to hand you the microphone for a moment or two.
We know that lots of people don't agree, but we actually love cabbage. Sure, it can smell a little funky, and is often found boiled to mush alongside other components of a meal, but it doesn't have to be this way! Cabbage's delicate sweetness, sturdy leaves and affinity for butter make it one of our favorite things to keep in the crisper. You have cabbage to thank for sauerkraut, cole slaw and grandma's stuffed cabbage -- and just in case those three things weren't enough to change your mind, we found a lot more.
PHOTO GALLERY
27 Cabbage Recipes
Want to read more from HuffPost Taste? Follow us on Twitter, Facebook, Pinterest and Tumblr.
BEFORE YOU GO
PHOTO GALLERY
7 Ways to Make Cabbage Sexy