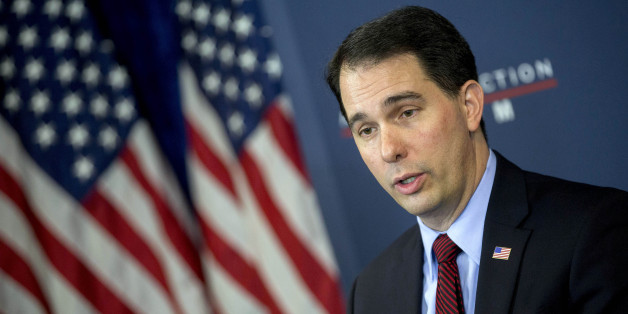 A new Iowa poll fuels speculation about who benefits from Mitt Romney's decision not to run. Republicans support government action on climate change. And a prominent market researcher thinks we should stop asking for the margin of error. This is HuffPollster for Monday, February 2, 2015.
IOWA POLL SHOWS WALKER, PAUL LEAD DIVIDED GOP - "John McCormick and MIchael Bender: "Wisconsin Governor Scott Walker is surging, former Florida Governor Jeb Bush is an also-ran and former Secretary of State Hillary Clinton is dominating in a new poll of Iowans likely to vote in the nation's first presidential nominating contest. The Bloomberg Politics/Des Moines Register Iowa Poll, taken Monday through Thursday, shows Walker leading a wide-open Republican race with 15 percent, up from just 4 percent in the same poll in October. Senator Rand Paul of Kentucky was at 14 percent and former Arkansas Governor Mike Huckabee, who won the Iowa caucuses in 2008, stood at 10 percent. Bush trailed with 8 percent and increasingly is viewed negatively by likely Republican caucus-goers. New Jersey Governor Chris Christie is in even worse shape, with support from just 4 percent. More troubling for Christie: He's viewed unfavorably by 54 percent, among the highest negative ratings in the potential field. At 9 percent, retired neurosurgeon Ben Carson pulls more support than either Bush or Christie." [Bloomberg]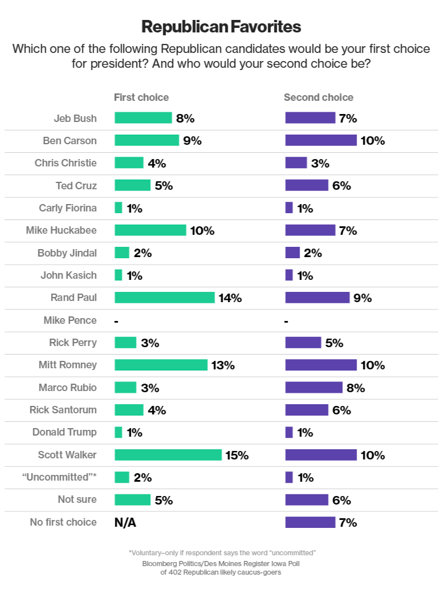 Clinton dominates among Democrats - More from McCormick and Bender: "On the Democratic side, the race among potential candidates isn't competitive. Clinton was the first choice of 56 percent. Senator Elizabeth Warren of Massachusetts, who has repeatedly said she isn't running, stands second at 16 percent. Vice President Joe Biden had only about half as much support as Warren, with 9 percent."
Beyond the horserace - Jennifer Jacobs: "Look at the extremes in the favorability ratings for clues about what the future might hold, [former Romney deputy campaign manager Katie Packer] Gage said. It's bad news for Trump: 32 percent say their opinion of him is 'very' unfavorable, the worst in the bunch. Christie's number is the next worst, with 22 percent who view him very negatively, and Bush is next, at 18 percent. In contrast, Walker has the highest percentage saying they feel "very" positively about him — 32 percent. No one else tops 30 percent on that score. 'The passion is in the 'very favorable' and 'very unfavorable,' ' Gage said. 'Everyone else is movable.'" [Des Moines Register]
More reaction via Twitter:
-Jeff Greenfield: "Note: the highly undemocratic, poorly attended, and irrelevant-to-the -final-GOP-outcome Iowa caucuses are one year away, Oh, look--a poll!" [@greenfield64]
-Patrick Murray: "Remember - this time four years ago, Huckabee led Iowa polls with about 30%. Romney in second tier in high teens. Santorum at 1%." [@PollsterPatrick]
-Charles Franklin: "Quite a range in vote among group of 2nd highest net fav group."
[@PollsAndVotes]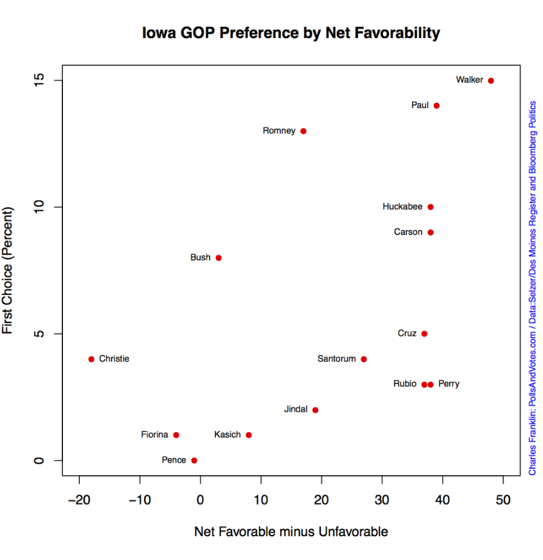 REPUBLICANS ON BOARD WITH CLIMATE CHANGE ACTION - Carol Davenport & Marjorie Connelly: "An overwhelming majority of the American public, including half of Republicans, support government action to curb global warming...In a finding that could have implications for the 2016 presidential campaign, the poll also found that two-thirds of Americans said they were more likely to vote for political candidates who campaign on fighting climate change. They were less likely to vote for candidates who questioned or denied the science that determined that humans caused global warming. Among Republicans, 48 percent say they are more likely to vote for a candidate who supports fighting climate change, a result that Jon A. Krosnick, a professor of political science at Stanford University and an author of the survey, called 'the most powerful finding' in the poll. Nonetheless, 47 percent of Republicans still said they believed that policies designed to curb global warming would hurt the economy. Although the poll found that climate change was not a top issue in determining a person's vote, a candidate's position on climate change influences how a person will vote. For example, 67 percent of respondents, including 48 percent of Republicans and 72 percent of independents, said they were less likely to vote for a candidate who said that human-caused climate change is a hoax." [NYT]
AMERICANS LESS WORRIED ABOUT GAS PRICES, STILL NOT SUPPORTIVE OF GAS TAX - HuffPollster: "Concern over gas prices has fallen steeply in the past few months, but a gas tax hike remains unpopular. The percentage of Americans for whom gas prices are at least a somewhat serious problem has fallen 20 points over the last three months, according to a new HuffPost/YouGov poll. Just a quarter currently say gas prices are a problem for their family, down from 45 percent in last November, and nearly 80 percent in 2012. An even smaller fraction -- 6 percent -- say the price is a serious problem….Just 31 percent of Americans think gas taxes should be used to pay for road repairs and construction, with more favoring the use of road tolls, vehicle registration fees or driver's license fees. And most of the public is not too concerned about the state of their local infrastructure: Only 20 percent describe the conditions of bridges in their area as bad, while 29 percent say the same of local highways. Polls suggest the shifting opinions on gas prices have had little effect on the public's willingness to pay more in taxes. While a June 2014 HuffPost/YouGov survey found a plurality of support for increasing spending on infrastructure, only 30 percent favored a proposal to increase the tax by 6 cents. A 2013 Gallup poll similarly found that just 29 percent would support a 20-cent increase to 'improve roads and bridges and build more mass transportation in your state.'" [HuffPost]
DEFECTION OF MIDDLE CLASS WHITE VOTERS BAD NEWS FOR DEMOCRATS - John Judis: "[In 2008] Obama and the Democrats appeared to have captured the youngest generation of voters, whereas Republicans were relying disproportionately on an aging coalition. The electorate's growing ethnic diversity also seemed likely to help the Democrats going forward. These advantages remain partially in place for Democrats today, but they are being severely undermined by two trends that have emerged in the past few elections—one surprising, the other less so. The less surprising trend is that Democrats have continued to hemorrhage support among white working-class voters—a group that generally works in blue-collar and lower-income service jobs and that is roughly identifiable in exit polls as those whites who have not graduated from a four-year college....The more surprising trend is that Republicans are gaining dramatically among a group that had tilted toward Democrats in 2006 and 2008: Call them middle-class Americans. These are voters who generally work in what economist Stephen Rose has called "the office economy." In exit polling, they can roughly be identified as those who have college—but not postgraduate—degrees and those whose household incomes are between $50,000 and $100,000.The defection of these voters—who, unlike the white working class, are a growing part of the electorate—is genuinely bad news for Democrats, and very good news indeed for Republicans. The question, of course, is whether it is going to continue. It's tough to say for sure, but I think there is a case to be made that it will." [National Journal]
'STOP ASKING FOR THE MARGIN OF ERROR' - Market researcher Annie Petit: "Any reasonably competent statistician can calculate the margin of error with numerous decimal places and attach it to any study. But that doesn't make it right. That doesn't make the study more valid. That doesn't eliminate the potentially misleading effects of leading questions and skip logic errors. The margin of error, a single number, has erroneously come to embody the entire system and processes related to the quality of a study. Which it cannot do. In spite of these issues, the media continue to demand that Margin of Error be reported. Even when it's inappropriate and even when it's insufficient. So to the media, I make this simple request. Stop insisting that polling and marketing research results include the margin of error. Sometimes, the best measure of the quality of research is how transparent your vendor is when they describe their research methodology, and the strengths and weaknesses associated with it." [HuffPost]
HUFFPOLLSTER VIA EMAIL! - You can receive this daily update every weekday morning via email! Just click here, enter your email address, and click "sign up." That's all there is to it (and you can unsubscribe anytime).
MONDAY'S 'OUTLIERS' - Links to the best of news at the intersection of polling, politics and political data:
-Political scientists saw Mitt Romney's decision not to run withdrawal coming. [Vox]
-David Karol explains what Romney's decision Mitt Romney's withdrawal says about political parties and presidential nominations. [WashPost]
-JustBefore his announcement that he would not run, only 37 percent of Republican DC political insiders thought Mitt Romney could be elected president. [National Journal]
-Blue State Republicans have surprising power in determining their party's nomination, Nate Cohn says. [NYT]
-Harry Enten finds 10 potential GOP candidates planning upcoming events in Iowa or New Hampshire. [538]
-Jonathan Bernstein says smart presidential candidates don't skip Iowa. [Bloomberg]
-Shibley Telhami probes how Americans really feel about Israeli prime minister Benjamin Netanyahu. [WashPost]
-Katy Perry is more popular than any of the Patriots or Seahawks. [YouGov]
BEFORE YOU GO
PHOTO GALLERY
Politicians Then And Now