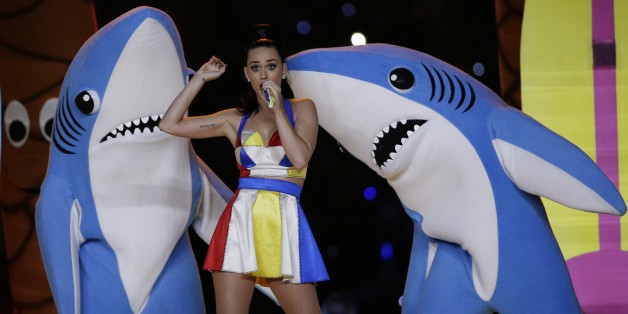 Katy Perry blew everyone's minds on Sunday night during the Pepsi Super Bowl Halftime Show. There was a giant robotic jungle cat, dancing chess pieces, Missy Elliott, Lenny Kravitz and Perry soaring across the stadium. But we've all agreed on the one true highlight: those dancing sharks. The big question remained: Who are they?
One eager Redditor, PhenominableSnowman, put out an Ask Me Anything (AMA) request for the dancers in the shark costume and one apparently bit back. Scott Myrick responded to the Reddit thread claiming he was was one of the sharks from the "California Gurls" performance and has been dancing for Perry for five years. He clarified that he was the right shark (from the audience's perspective), which is a good thing since the other dancer was criticized because of some perceived difficulty with the routine.
Myrick revealed that being a shark wasn't the craziest thing he's ever done with Perry. Besides also being a horse chest piece during the "Dark Horse" performance, he said, "I danced as a gingerbread man in her first tour the California Dreams tour. And also her big purple cat, Kitty Purry." But being a talking, dancing shark is no easy feat. Myrick said the costume's visibility was so bad that he ran into a palm tree on stage.
Myrick also danced with Taylor Swift for "I Knew You Were Trouble" at the 2012 American Music Awards:
He's also been on the cover of Entertainment Weekly with Perry. But if you ask us, "shark" should be at the top of his resume.
I MEAN..... THOSE SHARKS #ONFLEEK 💅

— Scott Myrick (@Scott_Myrick) February 2, 2015
And that everyone, is what it feels like to have your heart explode. I've never been more proud to be a part of something in my life.

— Scott Myrick (@Scott_Myrick) February 2, 2015
Tonight was a feeling and moment in time that I will never, ever forget. Thank you for all the support everyone. ❤️🐬

— Scott Myrick (@Scott_Myrick) February 2, 2015
OMG I MADE IT RT @SincerelyTumblr: Career Goals pic.twitter.com/xNcrtFQY5G

— Scott Myrick (@Scott_Myrick) February 2, 2015
Thanks be to Jesus, aka @katyperry for this shark takeover. You called it gurllllll 🐬

— Scott Myrick (@Scott_Myrick) February 2, 2015
BEFORE YOU GO
PHOTO GALLERY
Katy Perry's Super Bowl Halftime Show