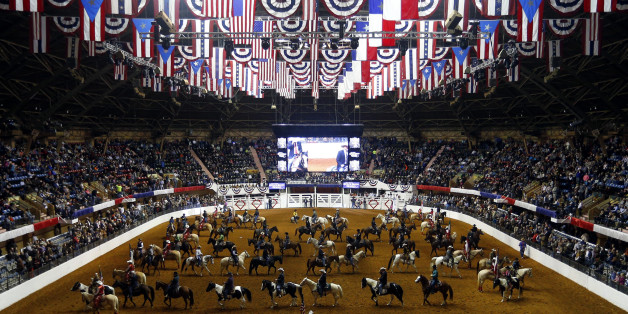 A Muslim imam who was scheduled to say a prayer at a Texas rodeo today has canceled after online backlash to a similar blessing last week.
Imam Moujahed Bakhach of the Islamic Association of Tarrant County delivered the blessing at the Fort Worth Stock Show & Rodeo on Jan. 25 as part of a program in which members of different faiths offer prayers before rodeo events.
Bakhach told the Dallas Morning News there was "a beautiful spirit" at the Will Rogers Coliseum when he delivered the blessing for the safety of the human performers, audience and cattle.
He also called for world peace, spoke entirely in English and made no mention of Allah, the rodeo wrote on its Facebook page.
Rodeo announcer Bob Tallman, known for giving the event a Christian tone, said Bakhach "did a wonderful job," according to the Fort Worth Star-Telegram.
But since then, online anger directed at the rodeo for inviting a Muslim to deliver the prayer prompted Bakhach to cancel the blessing scheduled for Feb. 2.
"..for you to embrace and allow an Imam to come in and offer a prayer is disgraceful and bowing down to political correctness when they are the very religion that is choosing to behead Christians for their beliefs and it calls for it in the Koran," wrote Cunningham Cattle.
"We are a nation at war with terrorists who have all come from the Muslim/Islamic 'faith!'" wrote Leisa Gettys Waylett. "How dare you invite them to state anything - prayer - statement - anything at the Stock Show!"
The imam said the reaction struck a sour note.
"I love Fort Worth," Bakhach told the Morning News. "It really hurt me to see this reaction."
However, some defended the prayer.
"As a Texan, I'm embarrassed at how vile people are being because they don't understand Islam and use the actions of people half way around the world to rain hate down on peaceful people here," wrote Diane Treider. "I'm glad the FWSSR did this."
"Stock show is about rodeo, animals and agriculture last I checked. I would always welcome a prayer for all of the above, no matter what language," wrote Jason Johnson. "Called having an open mind."
And perhaps it was Tallman, the rodeo announcer, who summed it up best.
"We live in a big world and a very changing world," Tallman told the Star-Telegram. "Some people don't deal well with change. I've learned how to live with and be fine with it."
(h/t Raw Story)
BEFORE YOU GO
PHOTO GALLERY
American Prayers