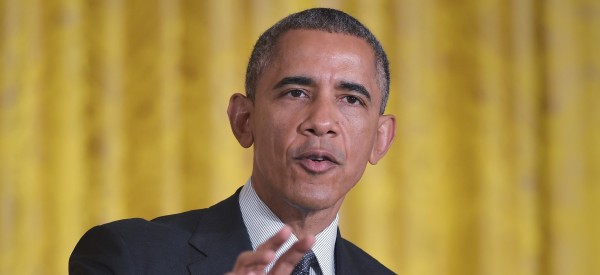 TOP STORIES
To get The Morning Email, HuffPost's daily roundup of the news, in your inbox, sign up here.
OBAMA DEBUTS $4 TRILLION BUDGET "President Obama will unveil a $4 trillion budget Monday, featuring an ambitious public works program, a one-time tax on foreign profits kept overseas by corporations, tax credits for middle-class Americans, and a 1.3 percent pay raise for federal employees and troops." And here's a guide to everything you need to know about the budget. [WaPo]

U.S. CONTEMPLATING SENDING ARMS TO UKRAINE Following a series of Ukrainian losses against Russian-backed forces, the U.S. is reevaluating sending weapons to the embattled country. [NYT]
BOKO HARAM HELD OFF IN KEY ATTACK "Nigerian troops Sunday repelled Islamic extremists who attacked from four fronts on Maiduguri, the biggest city in northeast Nigeria, with several civilians killed by aerial bombs and grenades and mortar shells on the ground." [AP]
JAPAN VOWS VENGEANCE AFTER ISIS BEHEADS JOURNALIST "When Islamic State militants posted a video over the weekend showing the grisly killing of a Japanese journalist, Prime Minister Shinzo Abe reacted with outrage, promising 'to make the terrorists pay the price.' Such vows of retribution may be common in the West when leaders face extremist violence, but they have been unheard of in confrontation-averse Japan — until now. The prime minister's call for revenge after the killings of the journalist, Kenji Goto, and another hostage, Haruna Yukawa, raised eyebrows even in the military establishment, adding to a growing awareness here that the crisis could be a watershed for this long pacifist country." [NYT]
PROTESTERS RETURN TO STREETS OF HONG KONG Wielding yellow umbrellas, thousands of pro-democracy protesters marched for "genuine universal suffrage." [AP]
PATRIOTS WIN SUPER BOWL The team snagged their first Lombardi trophy in ten years after a nail biter that came down to a final fourth quarter rally and clutch interception. Patriots quarterback Tom Brady was named MVP, tying him with Joe Montana for most Super Bowl wins and MVP awards. Seattle Seahawks coach Pete Carroll said "I hate that we have to live with that" call that resulted in the final interception. And here are all the gifs you need in case you missed the big game. [AP]
TRAIL TO THE CHIEF: MITT, WE TOTALLY KNEW YE "The idea, then as now, is that what Campaign World thinks and says [about 2016] is relevant, sort of. We need to cover it. At least in a goofy chart." And are you on Yo? We are. We'll Yo you whenever we get word of an official campaign announcement, so you'll be the first to know when a candidate has joined the horse race. Like, for real. [HuffPost]
FINGERS CROSSED PUNXSUTAWNEY PHIL DOESN'T SEE HIS SHADOW Check out a live video stream from Punxsutawney, Pennsylvania as we eagerly await to see whether Punxsutawney Phil will see his shadow and leave us with six more weeks of winter. [USA Today]
WHAT'S BREWING

SUPER BOWL ADS GALORE Check out Adweek's take on all the ads that companies paid outrageous amounts of money for. And this anti-heroin ad in the St. Louis market may have passed that Nationwide commercial in the race for worst ad. [Yahoo Sports]
AND TO ALL OF THE SHARKS Because who didn't love the singing sharks in Katy Perry's over-the-top halftime performance. And to everyone who didn't know who Missy Elliott was, you can at least agree she stole the entire show. [HuffPost]
BOBBY BROWN ASKS FOR PRIVACY FOR BOBBI KRISTINA His and Whitney Houston's daughter was found unresponsive in a bathtub on Saturday. [HuffPost]
2.1 MILLION CARS RECALLED The Honda and Toyota vehicles, which had previously been recalled for faulty Takata air bags, are now being recalled for faulty airbag sensor systems by TRW. [CNN]
THE TIP CREEP: HOW PAYMENT APPS ARE UPPING TIPS "And in many situations, merchants as varied as cab companies and beauty salons rely on the ubiquitous touch screen or mobile app to push higher and higher gratuities. New York City taxi riders paying with plastic are confronted with buttons for 20 percent, 25 percent or 30 percent tips. Anything less has to be manually entered (and calculated by the passenger)." [NYT]
'AMERICAN SNIPER' HOLDING STRONG AT THE BOX OFFICE The film broke a record for a Super Bowl weekend haul with $31.8 million weekend, bringing its overall total to $248.9 million.[Variety]
UBER WALKS BACK HARD-CHARGING ATTITUDE "Mr. Kalanick, the chief executive of Uber, a ride-hailing service, aggressively pushed the start-up into new markets, taking combative stances toward regulators and the powerful taxi industry -- and the news media. But Mr. Kalanick and his team have begun to trade the art of Sun Tzu for a full-throated charm offensive." [NYT]
ON THE BLOG
ALL YOU NEED TO KNOW ABOUT BRUCE JENNER "No matter how many outlets -- from trashy gossip rags to (supposedly) reputable entertainment magazines -- make claims about Bruce Jenner's current 'journey,' as Kim Kardashian recently put it, citing however many anonymous sources 'close to the family' (even if those sources turn out to be the family itself, which can often be the case), let's remember that Jenner has said nothing about what is happening and this entire situation -- whether it's true that Jenner is transgender or not and whether it's a strategic publicity campaign or leaked info or totally untrue -- paints being trans and coming out as trans as something that's rooted in and deserving of rumors and secrecy and shame and that isn't good or helpful or healthy for any of us." [HuffPost]
BEFORE YOU GO
~ Even Scarlett Johansson is blown away by how attractive Chris Hemsworth is.
~ The Kinspiracy points out the similarities between those that love to read Kinfolk magazine.
~ Someone flew over the pyramids of Giza in a wingsuit.
~ A former cast member of "Power Ranger: Samurai" has been arrested for stabbing his roommate to death with a sword.
~ Justin Timberlake's official baby announcement is pretty darn cute.
~ Kanye and Drake showed up on a song together for the first time in a looooooong time.
~ The Army just created a way to crowd-source how it analyzes cyberattacks.
~ This paint makes everything look more expensive.
~ Jimmy Fallon's latest lip sync battle with Will Ferrell and Kevin Hart may be his best yet.
~ Helen Mirren rides the Subway, confirming every baller thought you've ever had about her.
~ That time Kanye West and Kim Kardashian had a date with Chrissy Teigen and John Legend at Waffle House before the Super Bowl.
~ Everything we learned in that "Game of Thrones" trailer that dropped on Friday.
~ And in final Super Bowl nonsense, here's video of the crazy brawl that broke out in the final seconds, as well as one of the worst arm injuries we've ever seen.
Send tips/quips/quotes/stories/photos/events/scoops to Lauren Weber at lauren.weber@huffingtonpost.com. Follow us on Twitter @LaurenWeberHP. And like what you're reading? Sign up here to get The Morning Email delivered to you.