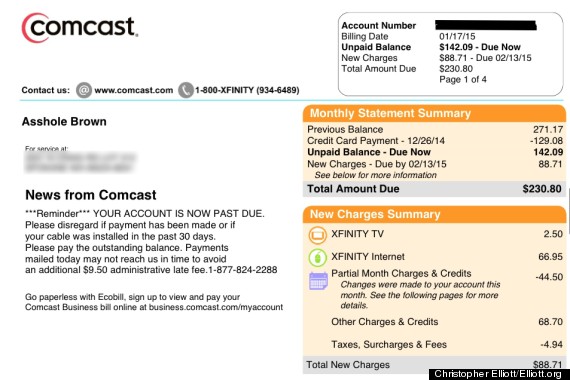 This post originally appeared on Consumerist.
Last week wasn't a good one for Comcast. It began with a report that someone at the company changed a customer's name to "A**hole Brown" and ended with multiple customers claiming their names had also been changed for the worse. Now Comcast says it's making an effort to curb this sort of rude and bizarre behavior.
"Each and every customer deserves to be treated with respect," reads a statement that shouldn't have to be made from Comcast. "We fell short of that and are taking immediate steps to make sure we fix this."
The company says it has pulled the plug on its relationship with the vendor call center that was involved with the "A**hole" incident and that it investigating the other reports, which include changing one customer's name to "whore" and another whose online profile read "dummy" instead of her actual first name.
In addition to apologizing to the affected customers, Comcast says it is making changes internally that it hopes can preempt rogue reps from acting like, well… a**holes.
"We're also working with our billing partner on technology that will prevent this from happening and re-training our employees across the country," reads the statement from Comcast. "Respecting our customers is paramount, and we need to do everything we can to make sure that this never happens again."
Between the two name-change reports, former Comcast exec Frank Eliason wrote a lengthy open letter to his onetime employer, questioning what impact the corporate culture at Comcast had on employees.
"Why do we not hear many incidents like these from other companies?" he asked. "Companies do implement technology solutions to prevent these type of things, which Comcast has stated they are working on, but often other companies do not have the same issue because they hire people to fit within their company culture."