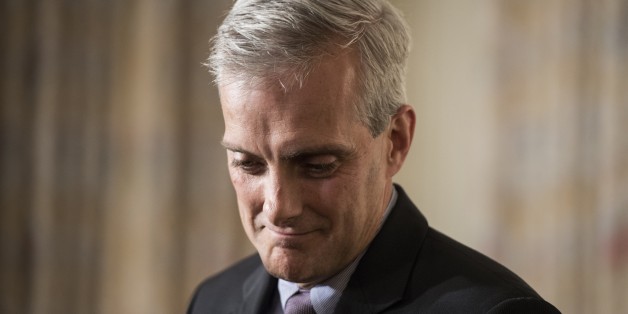 It's not every day a top-ranking White House official gets hands-on in a local operation -- especially with very few cameras around. But last Thursday evening, Denis McDonough did just that.
President Obama's chief of staff ventured onto the San Francisco streets alongside Mayor Ed Lee and Trent Rhorer, director of the city's Human Services Agency, SF Gate reported. The trio were volunteers for the city's biennial survey that counts how many people are homeless and breaks down the figure by demographics, like age and gender.
Only a small number of staff and Secret Service members joined them as they counted.
"What I see here, what we just walked through, this is a problem," McDonough said, gazing at half a dozen homeless people, according to the news source. "But this is the same sort of challenge we face all over the country. The numbers tell the story. And that's why this count is so important."
The survey is required of cities by the Department of Housing and Urban Development (HUD) to qualify for federal funding of community homeless programs, according to the National Alliance to End Homelessness.
In January of 2014, nationwide surveys for HUD, often referred to as point-in-time counts, found that there were 578,424 people experiencing homelessness in the U.S. Of that figure, 216,197 were people in families, and roughly 9 percent were veterans.
While those figures are hardly worth celebrating, annual data tracking homelessness has shown progress consistent with the country's climb out of the Great Recession. As The Washington Post reported in October, there's been a 10 percent drop in homelessness since 2010, when Obama launched an initiative focused on ending homelessness among groups that are disproportionately affected by the issue.
There's been a 33 percent drop in homelessness among veterans -- one of such populations -- in the same span of time.
Although the U.S. has experienced an overall decline in homelessness in recent years, local efforts have witnessed varied levels of success and failure. Last December, for example, New York City found that 59,068 -- a record-high number of residents -- were living without shelter. Cities like Phoenix and Salt Lake City, however, have made significant strides in ending chronic veteran homelessness in their communities.
In San Francisco -- where the 2013 point-in-time count found 6,436 homeless people -- McDonough's visit was practically hush-hush, SF Gate reported. The chief of staff said Obama simply wanted a firsthand account of how the city is fighting for its most vulnerable residents.
H/T Think Progress
BEFORE YOU GO
PHOTO GALLERY
San Francisco's Unbelievable Housing