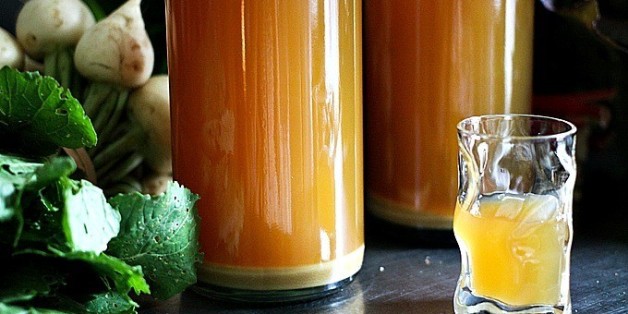 Here we are, right smack dab in the middle of cold season. Noses are running, throats are scratchy, and the dry air from the heater is making everything feel brittle. This time of year, infection is anywhere and everywhere. One way to deal with cold season is to nurse the inevitable cold with a cup of homemade chicken noodle soup -- which, as it turns out, really is Jewish penicillin. Another option is to make your own biting, brazen fire cider that'll burn the cold right out of you.
Fire cider is basically apple cider vinegar spiced with onion, garlic, ginger, horseradish, lemons and oranges. You can take fire cider as a daily shot -- straight -- add some to your tea, a cocktail or even use it to spice salad dressings. Those who swear by it take at least a shot a day as a way to boost their immune system and to maintain good health and digestion. Some people have even said that they use it as a source of energy, helping them to alleviate their reliance on caffeine.
To be clear, there is no scientific research backing the claim that fire cider will cure your cold. But, the traditional folk recipe has been a popular treatment among herbalists for years -- and apparently for many generations. Famed herbalist Rosemary Gladstar tells a story that dates a version of fire cider back to the days of the Plague.
These days fire cider has become popular in the mainstream, too, finding its way into local bakeries and Brooklyn larders. The company stocking many shelves is Shire City Herbals' Fire Cider -- and they'll gladly deliver their product right to your door. But another option is to make your own, just like it's been done throughout the years. We found a great recipe thanks to food blogger Foodie with Family. Go get it over here and stay healthy this cold season.
Want to read more from HuffPost Taste? Follow us on Twitter, Facebook, Pinterest and Tumblr.
BEFORE YOU GO
PHOTO GALLERY
13 Benefits Of Apple Cider Vinegar