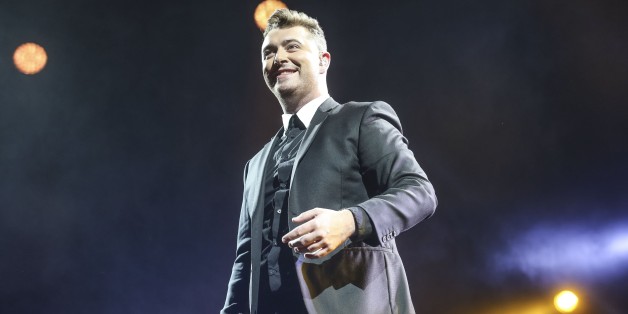 The following article is provided by Rolling Stone.
By PATRICK DOYLE
For his current Rolling Stone cover story, Sam Smith gave hours of interviews, both on his home turf in London and in Atlanta as he prepared to launch his first arena tour, giving us so much material that we couldn't possibly print it all. Smith, 22, who is nominated for six Grammys this weekend, opened up about everything from his cross earrings to listening to Lana Del Rey in the bath. Here are 22 highlights:
1. He wasn't afraid to speak up for equality at his Catholic school.
"From what I can remember, they believe that you can be homosexual, but you just can't practice it, which is ridiculous," he says. "I would just say, 'I am proof that it's genetic. It has to be, because it wasn't a choice.' And that's it. That's my only argument, you know? You love who you love, and I can't help that I like guys."
2. He's not sure he ever wants to get married.
"My views on marriage actually don't come from what's going on in the gay community. They actually come from my mom and dad splitting up," Smith admits. "I'm a bit unsure as to whether I want to [get married]. I don't understand why you have to wear a wedding ring to warn people off. You should be able to be faithful to that person without anything on your body to show that you are with someone. You know what I mean? [But] I'm a 22-year-old boy, I have no idea what I want yet. In terms of marriage, I change my mind every week. I've changed my mind every week on what my type is. I change it all the time. But it depends on the person I've met. If I fall in love with someone who really wants to get married, then I think I'd do that for them."
The Liberation of Sam Smith: Inside Rolling Stone's New Issue
3. He's planning to go back to school.
"I want to go back to school for two months towards the end of next year, because I did film for [my] A-level [secondary school], and I just want to learn more about film and directing so that I can start directing my own shit. I think I'm going to go to New York." Smith says he'll go to NYU "if they'll have me" or otherwise "do a crash course with a director. It'd be interesting. I'm just very intrigued by that world."
4. He hasn't forgotten his days as a barback.
"Working in a bar for three years, I will always be so respectful of the people working behind the bar. People treat you like shit," he says. "Especially in the financial [district]. Rich men would just treat Tiffany [Smith's best friend, with whom he's lived for four years] like a piece of meat. And well, me, they just had no time."
5. He thought fame would make him less lonely.
"Me and Gaga were talking about this, actually: I always thought I was going to fit into this world. Growing up, being the only gay guy in my school and in this small village, my mom used to always say to me, 'You're going to find your people, Sam. You'll find your group of people.' And I thought if I would become really well known, then I'd find my group of people. But they're not my group of people. There's amazing people, but still, I'm still in search of my people.
[I have] an amazing team, I've got my best friends... But I haven't found that group of people that are just like me, going through exactly what I'm going through. And I think I've maybe come to terms with the fact that maybe I'm not going to find a group of people going trough what I'm going through, because maybe what I'm going through is really, really rare, you know?"
Sam Smith and 11 Pop Stars Who Broke Via Dance Records
6. When you stare at him, he's silently freaking out.
"I get really self-conscious about people staring at me. It sounds so weird. As a performer, as an artist, these should be the things that I'm used to. But that's not the case," Smith explains. "When people stare at me, I freak out. You know when everyone stares at you you're like, 'Oh, God'? It just feels really awkward. Especially when you're on a plane, because my hair goes funny every time I'm on a plane."
7. He's a huge "Lost" fan -- and actually liked the ending.
"I loved it, loved it. True 'Lost' fans like it."
8. He's been really getting into "The Real Housewives of Atlanta."
The day he kicked off his arena tour, Smith relaxed with two episodes of the Bravo series. His favorite cast member? "NeNe's amazing. She's great. Everyone loves her. She's amazing."
9. He has no time for pot.
"I can't handle weed. I'm way too emotional. Last time I took it, I thought I had clamps in my mouth. [I was like] 'No, no no!'"
10. He bought a French bulldog for $3,000, but had to give it back.
"I bought a dog and had to give it away two weeks later. I realized I just couldn't handle it. That was the most lavish thing I did, which backfired. I got it and then I freaked out."
Rolling Stone's 20 Best Pop Albums of 2014
"I want to be a pop star that isn't really skinny, a pop star who doesn't have a perfectly even face. I want to change what a pop star is."
11. His mother, who was a trader for major brokerage firm Tullett Prebon, taught him to be ambitious and assertive.
"I think I'm a know-it-all. I get that from my mom, sometimes," Smith admits. "My mom can be a bit of a know-it-all. She'd even say that, too. I can see it when I'm with my band and my team. I know how to be authoritative. Even if I don't know what the fuck I'm doing, I pretend like I do. It's all for show. That's true for anyone, I think. You've gotta convince yourself that you know what you're talking about sometimes."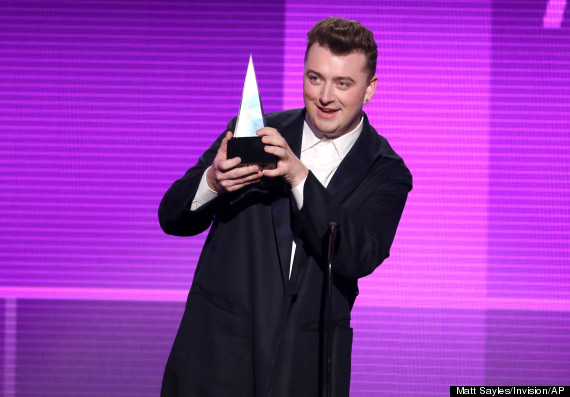 12. Smith recently called some pop stars "just awful," but clarifies:
"I'll say this to you candidly, and please publish this: The pop stars I'm talking about are not the pop stars anyone would expect. And I'm not talking about 20, 30 people. There's probably a few people, here and there, over the last two years, they're not horrible, but they're just not very kind and not very supportive to up-and-coming artists. That was it. It was only a few people."
He adds, "I said to my dad on the phone, 'Who am I dissing here? Are all pop stars going to be offended by that comment?'" Because I think it's common knowledge that some people are dickheads, right? I could be a dickhead. People probably think I'm a dickhead, sometimes. But it's just common knowledge. I didn't think that was a bad thing to say. . .I hope that Taylor Swift and Ariana Grande don't think I've started dissing them, because I think they're lovely."
Rolling Stone's 50 Best Albums of 2014
13. He loves Nicki Minaj.
"She said something I actually really agreed with. She did a documentary for the Pink Friday tour. She said something like, 'When I'm assertive, I'm a bitch. When a man is assertive, he's a boss.' I could see where she comes from."
14. Rihanna's an idol – and a close friend.
"I fucking love Rihanna," Smith gushes. "She came to my show in L.A. She speaks to me all the time. For someone that famous, she's really real. Love her."
15. He really likes to take baths.
Smith says he listens to "a lot of Lana Del Rey in the bath. She's good bath music. Or the soundtrack to 'Elizabeth: The Golden Age.'" He adds, "I make time for a bath. No matter what happens in life, no matter how famous I get or how upset or sad I get, how lonely I get, how happy I get, how heartbroken I get, the one thing I can always go to sleep knowing is there will always be baths."
16. He considers himself spiritual.
"I believe in God, but I don't know what it is — if it's a he, she, a he-she, or anything. [Laughs] Who knows what it is. All I know is that I feel like there's something else there."
17. He has a specific way of describing his own incredible voice.
"It's not falsetto, it's just chest voice. I just power through. Sometimes I do head voice. It's hard to explain. I just sing. . .I am technical, but I don't know what it is because I've never heard it before with other guy singers. I belt in my high register. It's hard. It's quite operatic, the way I sing, sometimes."
Rolling Stone's 30 Greatest EDM Albums of All Time
18. The Catholic Church influenced his style.
"I went to Catholic school 'til I was 18. There's a connection there, you know?" he says. "For a lot of things I do, it's a symbol. . .I used to change my earrings up all the time, every day. I'd have different pairs for each day. The day that I shot the acoustic video to 'Lay Me Down,' it just so happened that I wore cross earrings. And I remember when I watched the video back, I was like, 'That can be my thing.' There's a little meaning behind wearing crucifixes in my ears, you know? But I would never go into it."
19. He wants his overall style to be "iconic."
"That's all I want. I want what I wear to be iconic. Not even what I wear, the way I hold myself. I don't know, I like clean-cut things that are just iconic. I like wearing things that I would look at pictures of in 60 years' time and they'll still be in fashion, do you know what I mean? That's what I like."
20. Don't expect him to play Russia.
"I don't hate Russia, but I just will never go to Russia [because] what they do to gay people there is just disgusting and it makes me very angry," Smith says. "I've even said, no matter how many billions of pounds you could offer me, I just couldn't, which makes me sad because I have Russian fans. They contact me on Twitter, it makes me sad."
21. He wants his next album to be more personal than his first.
"I'm very passionate about being relatable. On my second record, instead of looking like I have more money, more airbrushing, I want to actually be more raw and more honest on my second album than my first," he says. "I want to be a pop star that isn't really skinny, a pop star who doesn't have a perfectly even face, where in my music video, I don't look my best, [but] I look raw and human. I want to change what a pop star is. I think that's deep down what I really want to do in music. I want to change that whole idea of, 'When I'm older, I want to be perfect.' I want to change people's idea of what perfection is. That's what I really want."
22. He's excited about a new song called "Scars," a letter to his parents.
"After 'In the Lonely Hour,' I was thinking, 'How do I become relatable when I'm not relatable?' [Most] people don't go to [fancy] restaurants, can't treat their families and take their sisters out. People don't have that. And how could I write an album that people can relate to when people can't relate to [me], you know what I mean?" Smith says. "It's really scary, and I had that moment where I was like, 'I could lose everything on my second album, because I'm no longer relatable.' And also [I had] that pressure of, 'OK, shit, now I need to fall in love. Something like that needs to happen for me to become relatable again.' Then I wrote that song ["Scars"] and every kid who has come from a divorced family is going to listen to that. And I feel weird, because I shouldn't give too much away. My album, it's going to be another year and a bit."
BEFORE YOU GO
PHOTO GALLERY
Celebrity News & Photos