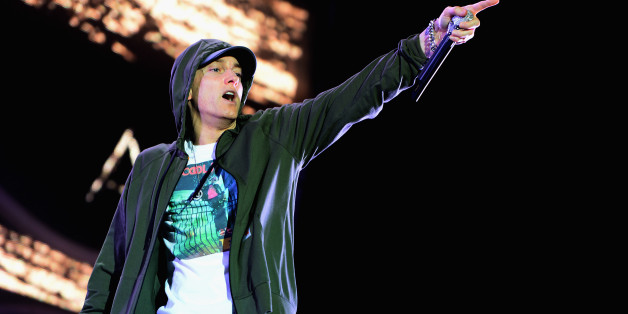 Eminem was awarded Best Rap Album at the Grammys for "The Marshall Mathers LP 2," beating out Iggy Azalea's heavily favored "The New Classic." Eminem also topped Common's "Nobody's Smiling," Childish Gambino's "Because The Internet," Schoolboy Q's "Oxymoron," and Wiz Khalifa's "Blacc Hollywood."
"The Marshall Mathers LP 2" is Eminem's eighth studio album. It received generally positive reviews, Rolling Stone writing, "He's playing his best character: the demon spawn of Trailer Hell, America, hitting middle age with his middle finger up his nose while he cleans off the Kool-Aid his kids spilled on the couch." Eminem also won the Grammy for Best Rap/Sung Collaboration for his track "The Monster," featuring Rihanna. Eminem's track "Rap God" lost Best Rap Performance to Kendrick Lamar for his latest single "i."
Iggy Azalea has received a significant amount of criticism for cultural appropriation over the last few months, beginning with Azealia Banks calling her out for keeping silent after the grand jury's decision not to indict the officer involved in the death of Eric Garner. In a later radio interview with New York radio station Hot 97, Banks also criticized Azalea for a "cultural smudging" in how she appropriated aspects of Nicki Minaj's work.
Shortly after Q-Tip and T.I. entered the conversation, encouraging more discussion than admonishment. (Hackers also threatened to release "various snapshots" from Azalea's alleged sex tape unless she apologized to Banks for their Twitter battle.)
Most recently, rapper-actress Eve and singer Jill Scott called out Azalea for her "blaccent," to which she responded: "I'm myself." Constantly having to defend herself, Azalea has said that her frequent criticism "has 100,000 percent to do with the fact that I have a vagina." However, when GQ asked Azalea what helps her handle the comments, she responded, "Uh, awards season helps."
Eminem's victory follows Macklemore & Ryan Lewis' Best Rap Album win, and subsequent sweep of the rap categories, at the 2014 Grammy Awards. Those victories also incited anger across the Internet.
BEFORE YOU GO
PHOTO GALLERY
2014 Grammys After-Parties