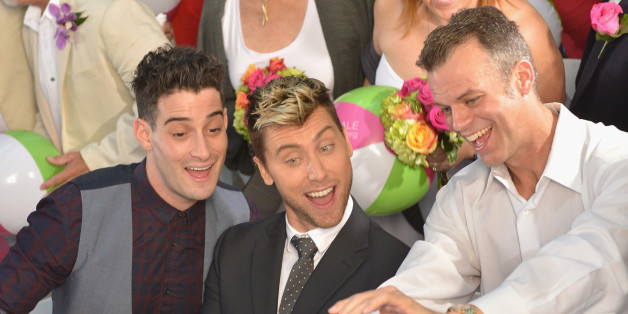 Just ahead of their forthcoming television special, *NSYNC star Lance Bass and his new husband, Michael Turchin, touched down in Florida for a mass wedding ceremony celebrating the union of 100 couples.
The 35-year-old pop star, who wed Turchin last December, served as the official ambassador for Fort Lauderdale's "Love Is Love" event on Feb. 5. The 100 couples included both same-sex and straight pairs, with some tying the knot for the first time and others renewing their vows.
"Love Is Love" also unofficially marked the start of marriage equality in the Sunshine State, where the first same-sex couples began marrying on Jan. 5. The newlyweds and recommitted couples represented 18 U.S. states, as well as London, Italy and South America, according to press representatives.
It's been a whirlwind week for Bass and Turchin, who have been in the midst of a publicity tour for their new E! special, "Lance Loves Michael: The Lance Bass Wedding."
The 90-minute show, which airs Feb. 5, will reportedly mark the first time a same-sex celebrity wedding has been televised.
BEFORE YOU GO
PHOTO GALLERY
"Love Is Love" In Fort Lauderdale