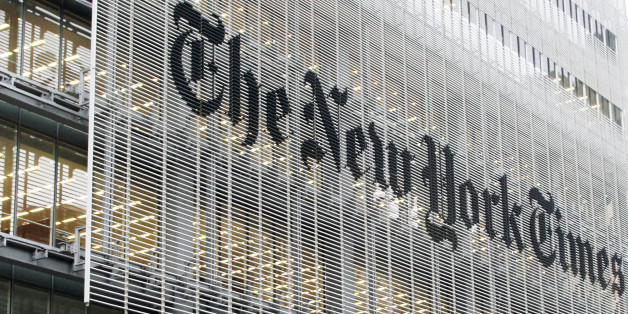 NEW YORK -- The New York Times is continuing to build its 2016 election team and has tapped David Halbfinger, one of the paper's deputy metro editors, as its presidential campaign editor, according to a memo obtained by The Huffington Post.
Washington bureau chief Carolyn Ryan wrote to staff Thursday that Halbfinger would bring his "customary energy and intelligence to our daily political report and driv[e] thematic coverage both in print and on the web."
"David will have strong partners on the campaign: he will work closely with Paul Volpe, our deputy, who brings dazzling creativity and smarts to our report across all platforms, and Bill Hamilton, our political enterprise editor, who is among the most talented and thoughtful architects of long-form stories anywhere," she wrote.
The Halbfinger move comes on the heels of executive editor Dean Baquet announcing management changes in anticipation of the upcoming election.
"The 2016 presidential campaign is fast approaching, and it promises to be an even more sprawling and demanding story than it was in the last cycle," Baquet wrote Tuesday in a separate memo obtained by The Huffington Post. "We have already assembled a strong team of journalists, positioned to dominate coverage."
Baquet wrote that Ryan would continue as bureau chief, but would need additional managerial support as her focus turns to 2016. Baquet named Elisabeth Bumiller as Washington editor, a move that was first reported by Politico.
"With the campaign upon us, Carolyn has begun to build a desk that meets our large ambitions for political coverage," wrote Baquet. "It will be an enormous and complex operation that will have to provide the deep analytical and enterprise reporting that is our signature, while taking on competitors that barely existed in the last presidential election. And it will be our first big political desk of the mobile age."
Baquet's acknowledgement of new competitors is notable, especially after recently telling Der Spiegel that the Times had been "arrogant" when it came to Web journalism.
The Times has already enhanced its political staff by turning to one relative newcomer: Politico. Since the 2012 election, the Times has hired Jonathan Martin, Maggie Haberman and Alex Burns from the political publication, which launched just two cycles ago. Both Martin and Haberman will be key to the Times' 2016 coverage, while Burns was recently named metro political correspondent for the paper.
Since the last election, Ryan has also hired The Washington Post's Jason Horowitz and shifted Amy Chozick from the business desk to get the jump on covering presumed Democratic front-runner Hillary Clinton. In addition, the Times recently moved Pat Healy, the paper's Clinton beat reporter in 2008, over to the 2016 desk.
The Times is also looking to assign reporters to key early voting states, according to sources. So far, the paper has assigned reporter Trip Gabriel to cover Iowa and is looking for a reporter for New Hampshire.