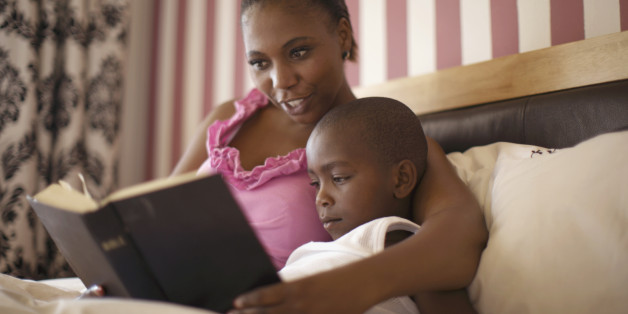 Although single parents may not have the economic resources of married parents, they are still hitting the mark on what experts agree are beneficial parenting priorities: reading with their kids, having meals together and setting TV rules.
This data comes from a newly released Census Bureau report on indicators of children's well-being, which was further analyzed by Sandra Hofferth for The Council on Contemporary Families, a nonpartisan nonprofit group.
"Overall, parents are doing a pretty good job of parenting their children," Hofferth told The Huffington Post.
Married and single parent behaviors sometimes appeared statistically different in the census data, but those differences did not translate to meaningful distinctions in reality, Hofferth found. A little more than half of children ages 3 to 5 with married parents are read to seven days a week, compared to 41 percent with a single parent. However, on average single parents read to children six days per week, compared to 6.8 days for married parents.
Married and single parents had meals together and set rules for watching TV at roughly similar rates.
(Story continues below)
Children who live in single-parent households tend to participate in fewer extracurricular activities than children of married parents, which Hofferth suggested is likely due to less discretionary income for things like club fees.
"When you're talking about single parents, you're also confounding the issue of how many resources they have," Hofferth said.
She posits that family income affects behavior more than family structure does. The census data showed that single-parent families have higher rates of poverty (41 percent) than families with married parents (14 percent). But, Hofferth found, parents who live together but are unmarried tend to behave more like single parents -- and have similar poverty rates.
"With two parents, you have more parents to read with the children, but overall it looked as though the family differences were different by income," Hofferth said.
For example, income level appeared to have a greater impact on sports participation than family structure did:
Hofferth's conclusions would seem to bear out previous research. A 2014 study by Kimberly Howard and Richard Reeves of the Center on Children and Families used the Brookings Social Genome Model and other data to reach the conclusion that marriage does not necessarily change how one parents.
"The apparent 'marriage effect' may actually be an income effect," they wrote.
BEFORE YOU GO
PHOTO GALLERY
States With Best Educational Outcomes For Girls