As part of our Blended Family Friday series, each week we spotlight a different stepfamily to learn how they successfully blended their two families. Our hope is that by telling their stories, we'll bring you closer to blended family bliss in your own life! Want to share your own story? Email us at divorce@huffingtonpost.com.
Fifteen years ago, single gal Angela Vassallo met and fell in love with the man who would become her husband. Not long after, she was introduced to his two young boys from a previous marriage. Angela's the first to admit that figuring out what role she'd play in the household wasn't necessarily easy, but with time, she and her new family figured it out.
"At this point, you could say that we are a happy harmonious blended family, but if you asked any of us, we would simply say we are just a family," she told The Huffington Post.
Below, the busy stepmom and creator of The Second Wives' HQ shares more of her success story.
Hi Angela. Want to introduce us to your family?
Sure! There are five members in all. There's me, my husband Mark, my stepsons Jack (21) and James (19), and Dylan (8), my son with Mark.
How long have you and Mark been a couple?
We have been together for 15 years and married going on 12 years this March.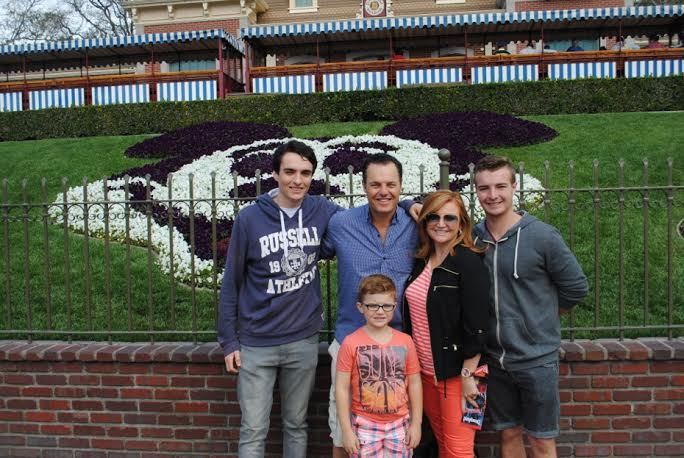 Photo courtesy of Second Wives' HQ
What are some of the biggest challenges of blended family life?
There are four big challenges that come to mind. The first is simply balancing family life when children are coming and going all the time. Secondly, it can be rough to build your own boundaries and structure in your home when there is another home that your stepchildren are part of as well. Then as a stepmom, I've really had to push to make sure everyone feels like they have a home, a voice and a role in the family without overstepping my boundaries as a stepparent. And lastly, it can be difficult to create harmony in the home. From my experience, it takes nearly two years for a blended family to really form and accept each other and the situation.
What makes you proudest of your family?
I am proud that we have been a blended family for 15 years and are still going strong today. My stepsons are older and have their own lives going on but we still live together, travel together and have a mutual respect for one another. It certainly wasn't easy in the beginning for any of us -- there were a lot of adjustments. It takes years to form those important relationships. I am also proud to have witnessed and played a role in raising my two stepsons.
How do you deal with stress in your household?
Communication, communication, communication! I learned a long time ago that complaining, bitching or feeling resentful and doing nothing about it gets you nowhere. It only causes more stress for you and your partner. People can't read your mind, you need to be clear on what you want. If you are not happy with the way things are going, then you need to express that and then come up with a solution that addresses what you want to see happen. Just complaining about what makes you stressed or unhappy is not going to solve the problem. What works for me is sitting my partner or the family down and explaining what is causing me stress and why that is, then working on a way we can solve it.
It's also important to realize that there are a lot of outside influences that can cause stress in your home. Being aware of that and not letting them get too involved in your family home is key.
What advice do you have for other blended families who feel like a peaceful family dynamic is out of reach?
Hang in there! It can definitely be tough. I actually talk a lot about keeping the peace in the new book I wrote, The Second Wives' Guide. The first step is not letting yourself believe that any other family dynamic is easier than yours. Every family has drama -- I don't care who you are or how your family is made up -- every family goes through struggles. News flash: All siblings fight, argue and don't get along even when they are biological siblings. And sometimes parents and children argue and don't get along, regardless of whether they're biological or step.
If you're consistent with your boundaries, play fair and remain committed to your blended family, it will eventually pay off in ways you can't even imagine. Just remember: don't take things personally and choose your battles. Really, don't make an issue out of every little thing. You have to learn to let some things go. This will not only help you in creating more respect and harmony in your blended family, it will help you keep your sanity, too!
PHOTO GALLERY
Meet Angela And Mark's Family
Keep in touch! Check out HuffPost Divorce on Facebook and Twitter. Sign up for our newsletter here.
BEFORE YOU GO
PHOTO GALLERY
Blended Family Friday