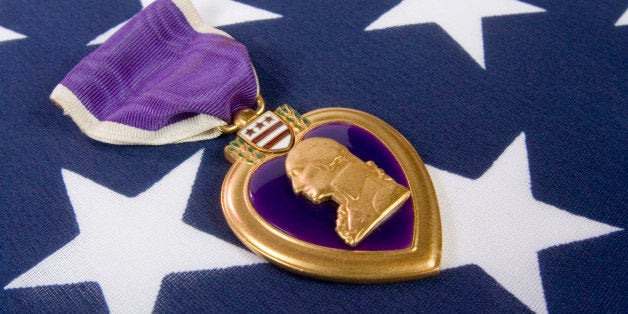 SAN ANTONIO, Feb 6 (Reuters) - The U.S. Army will make military personnel injured in the 2009 shooting attack at the Fort Hood base in central Texas eligible for the Purple Heart and civilians injured eligible for the Medal for Defense of Freedom, military officials said on Friday.
Lawyers for 40 military personnel and civilians killed or wounded in the attack have petitioned to have the incident be declared an act of terrorism, which would open the door for the medals and allow them to receive certain benefits.
"The Purple Heart's strict eligibility criteria had prevented us from awarding it to victims of the horrific attack at Fort Hood," Secretary of the Army John McHugh said.
"Now that Congress has changed the criteria, we believe there is sufficient reason to allow these men and women to be awarded and recognized with either the Purple Heart or, in the case of civilians, the Defense of Freedom medal."
Then Army Major Nidal Hasan, an American-born Muslim, opened fire on unarmed soldiers preparing for deployment on Nov. 5, 2009, killing 13 people and wounding 32 others in what he later called retaliation for U.S. wars in the Muslim world.
The Army had previously designated the shooting to be "workplace violence" on the grounds that Hasan was not only an enemy combatant, he was a fellow soldier, and there was no evidence that the attack was directed by a foreign enemy.
But Congress inserted language into the National Defense Authorization Act of 2015 which expanded the eligibility for the Purple Heart by stating it should cover an attack if the perpetrator was in communication with foreign terrorists or inspired by one.
U.S. Representative John Carter, a Republican whose district includes Fort Hood, was among those who fought for the awards.
"The victims of this attack have struggled and suffered, and been abandoned by this Administration," Carter said. "No more. Today is a day of victory and I am honored to have fought on their behalf.
Attorney Neal Sher, who has represented the wounded and the families of those killed in a lawsuit against the government seeking the award, said today's announcement is "long overdue."
In addition to the medal itself, the award also confers additional benefits, from Veterans Administration health care to combat related special compensation to burial at Arlington National Cemetery.
Hasan was convicted of murder in 2013 and was sentenced to death. (Writing by Jon Herskovitz; Editing by Bernard Orr)