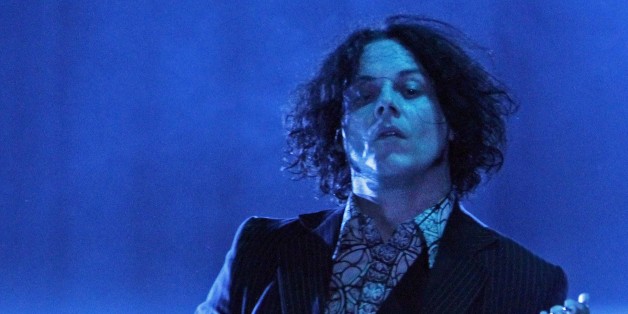 Attendees of Jack White's concert at the University of Oklahoma on Monday better have had their fill, because the musician won't be returning any time soon.
White's booking agency, William Morris Endeavor Entertainment (WME), blacklisted OU after the school paper published his contract, which it obtained via the Freedom of Information Act.
In addition to disclosing OU spent more than $80,000 to bring in White, the document contained numerous other amusing tidbits, including White's preferred guacamole recipe (see below, must be "fresh home-made" and "chunky"), the band's strict no-banana policy, and what's presumably White's personal meal of a "New York strip steak, prepared medium, no sauce, with clean, steamed vegetables on the side."

Not monkeying around here: No bananas.

During the show, White reportedly addressed the publication, telling concertgoers, "Just because you can type it on your computer doesn't make it right."
The Oklahoma Daily defended its decision to publish the document following news of the ban, writing, in part:
His contract wasn't something we leaked. It is public information that any of you could request. Many newspapers show contracts of celebrities that come into town; this isn't something The Daily did that's out of the ordinary. It's not a hidden document, and it's not something we had to dig to get. It is available to the public.
Pitchfork reports White himself wasn't involved in the decision to blacklist OU -- that came from WME, who didn't immediately respond to a request for comment from The Huffington Post.
Under the conditions of the ban, WME refuses to book any of their artists at the venue "until this policy is modified not to disseminate private information." WME's contemporary roster includes a broad number of musicians, including Adele, Lady Gaga, Snoop Dogg, and Pharrell Williams.
Here's that guacamole recipe: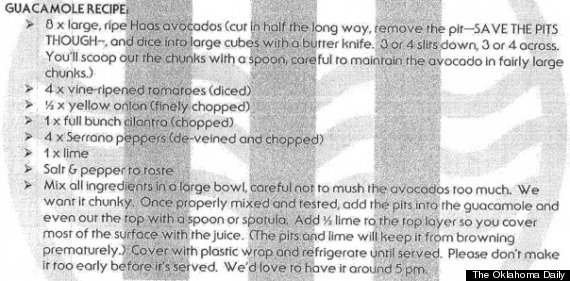 To read the full contract, click over to The Oklahoma Daily.
UPDATE: Feb. 9 -- The PR firm "Nasty Little Man" has released a statement from Monotone Inc. (Jack White's management) with its take on the incident, which it has headlined, "Holy Guacamole!" Read it in full, below:
To the students and staff of University of Oklahoma:

Jack White would love to thank all the concert attendees at his performance at the University of Oklahoma. The crowd was incredible and Mr. White played an extensive two and a half hour show for them. The students who helped organize the event were wonderful. Playing in, and for, the people of Oklahoma is one of Jack White's favorite tour stops. At no time did Jack White or White's management say that we would never play there again, that is untrue.

The incidents with the OU Daily student newspaper reporting the financial terms of the show, the private tour rider information, along with unsolicited photographers from their staff were unfortunate, unprofessional, and very unwelcoming. The show was one of many on this tour directed at playing for university students in their own environment. And the band were all completely thrilled with the performance and the crowd.

Incidentally, the most important function of a rider is that it lays out optimal technical specifications to ensure the audience has the best experience possible. For that, Jack hires a team of very qualified touring professionals who write the rider and attempt to execute a professional and pleasant experience for all involved. Part of that is making sure that the tour personnel of about 30 people plus the local venue staff are fed. Contrary to what some believe, Jack doesn't write the rider nor make demands about his favorite snacks that must be in his dressing room. We're not even sure he likes guacamole but we do know that the folks who work hard to put on the show do enjoy it.

(By the way, now that's it out there, we recommend you try Lalo's guacamole recipe. It's delicious.)

We hope those present for Mr. White's performance are able to maintain their good memories from the experience and he looks forward to seeing them again soon.

Sincerely,

Monotone Inc.
BEFORE YOU GO
PHOTO GALLERY
Celebrity Tour Riders: They Ask for WHAAA?!