Pesto is the perfect quick fix for an otherwise boring weeknight dinner -- but why settle for the same old basil-based recipe? Give your pesto a superfood boost by using kale, and you can take your dish to a whole new level.
Kale Pesto
Recipe by Catherine McCord of Weelicious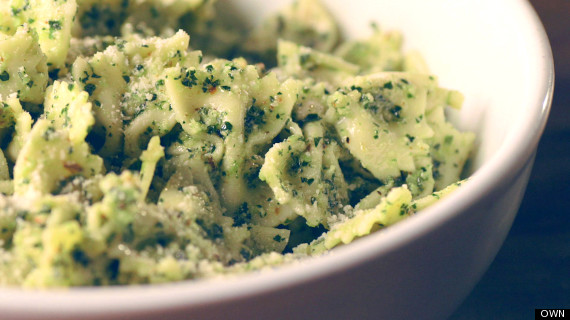 Makes 1 cup (8 servings)
Ingredients
2 c. packed kale leaves
1/2 c. toasted walnuts
2 Tbsp. parmesan cheese, grated
1 garlic clove, roughly chopped
2 Tbsp. lemon juice
1/2 tsp. kosher salt
1/4 c. olive oil
Directions
Place all of the ingredients in a food processor and puree until smooth.
Serve on top of your favorite pasta (or use as a healthy sandwich spread).
For another savory kale recipe, try this Kale Citrus Sea Salt -- it makes a great rub for chicken.
BEFORE YOU GO
PHOTO GALLERY
Easy Ways To Dress Up Boring Pasta