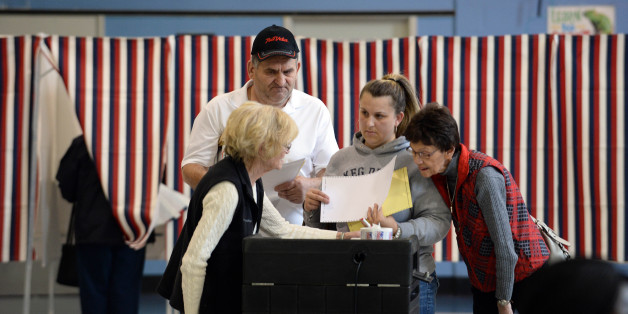 New Hampshire voters have yet to tune in to 2016. Investigative journalists suspect the government is spying on them. And most people don't really care about politicians' high school drug use. This is HuffPollster for Friday, February 6, 2015.
NEW 2016 NEW HAMPSHIRE POLL FROM WMUR/UNH - James Pindell: "The first major poll of New Hampshire Republican voters following former Massachusetts governor Mitt Romney's decision not to run for president in 2016 shows former Florida governor Jeb Bush and Wisconsin Governor Scott Walker leading others interested in running. Former US secretary of state Hillary Clinton has a sizable lead among Democrats....Had Romney decided to run a third time for president, polls suggested he was a lock to win the Granite State. With Romney out, the WMUR Granite State Poll by the University of New Hampshire shows Bush with 17 percent support, Walker with 12 percent, and Chris Christie, Rand Paul, and Mike Huckabee at 9 percent. On the Democratic side Clinton has a dominant 58 percent support, well ahead of Massachusetts Senator Elizabeth Warren at 14 percent. Other potential candidates, including Vice President Joe Biden, Vermont Senator Bernie Sanders, New York Governor Andrew Cuomo, and former Virginia senator Jim Webb, were all in single digits. [Boston Globe]
NH voters not yet engaged - Andrew Smith and Zachary Azem: "The 2016 primary is the 100th anniversary of this institution, but voters are not yet that interested. And certainly have not decided who they will vote for...New Hampshire primary voters usually decide who they will vote for in the last weeks, or days of the campaign and it is no surprise that very few likely Republican primary voters currently have made up their minds about who they will support in 2016. Currently, only 6% of likely Republican Primary voters say they have definitely decided who they will support, 9% are leaning toward a candidate, and 85% are still trying to decide." New Hampshire voters are only marginally more engaged on the Democratic side. "Currently, only 7% of likely Democratic primary voters say they have definitely decided who they will support, 16% are leaning toward a candidate, but the great majority of voters (76%) are still trying to decide who to support." [UNH reports on samples of Republicans and Democrats ]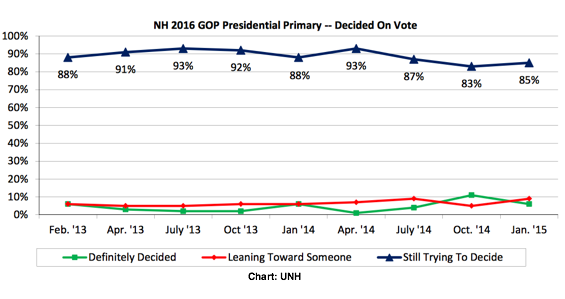 'Republicans hate Donald Trump' - Aaron Blake: "Yes, the guy who was leading the GOP primary polls in the early part of the 2012 campaign -- almost exactly four years ago now -- is nothing shy of a pariah, even among the most devoted early primary and caucus voters. A Bloomberg/Des Moines Register poll of the Iowa caucuses over the weekend showed Trump was viewed unfavorably by 68 percent of likely [Iowa Republican] caucus-goers, compared to 26 percent who liked him. Of the 68 percent who disliked him, nearly half viewed him "very unfavorably." A new University of New Hampshire poll of the New Hampshire primary, meanwhile, shows basically the same thing there. While 69 percent [of NH Republicans] have an unfavorable opinion of Trump, just 19 percent have a favorable one. These numbers, we would stress, are among Republicans." [WashPost]
NO GOP FAVORITES NATIONWIDE - Kathy Frankovic: "More than a dozen Republicans are talking about (or at least not denying they are thinking about) a run for the Presidency in 2016, but Republicans in the latest Economist/YouGov Poll have yet to work up enthusiasm for any of the possibilities....Just a third of Republicans favor a run by New Jersey Governor Chris Christie, while close to half oppose one. For Rick Santorum, who finished second to Mitt Romney in the 2012 GOP nomination battle and Senator Lindsay Graham, even fewer Republicans want them to run than want Christie to, while just as many Republicans say 'no.' For the most part, Republicans are happy that their party's 2012 nominee, Mitt Romney, took himself out of the running. Just a third say they wish Romney hadn't done that...There are some Republicans who get significantly more positive than negative answers when Republicans are asked if each should run That group includes former Florida Governor Jeb Bush, Florida Senator Marco Rubio, and Wisconsin Governor Scott Walker. The balance of assessment for Kentucky Senator Rand Paul and Texas Senator Ted Cruz are modestly positive." [YouGov]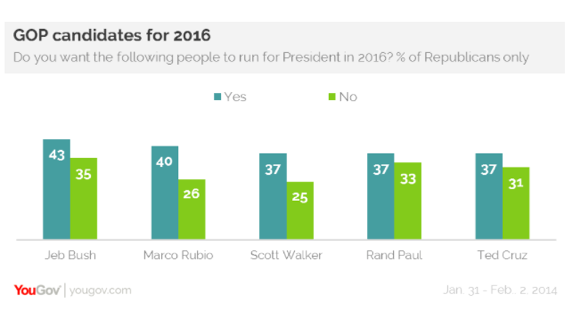 PEW SURVEYS INVESTIGATIVE JOURNALISTS - Jesse Holcomb, Amy Mitchell and Kristen Purcell: "About two-thirds of investigative journalists surveyed (64%) believe that the U.S. government has probably collected data about their phone calls, emails or online communications, and eight-in-ten believe that being a journalist increases the likelihood that their data will be collected. Those who report on national security, foreign affairs or the federal government are particularly likely to believe the government has already collected data about their electronic communications (71% say this is the case), according to a new survey of members of Investigative Reporters and Editors (IRE) – a nonprofit member organization for journalists – by the Pew Research Center in association with Columbia University's Tow Center for Digital Journalism. Thus far, concerns about surveillance and hacking have mostly fallen short of keeping many journalists from pursuing a story or a source; Just 14% say that in the past 12 months, such concerns have kept them from pursuing a story or reaching out to a particular source, or have led them to consider leaving investigative journalism altogether." [Pew]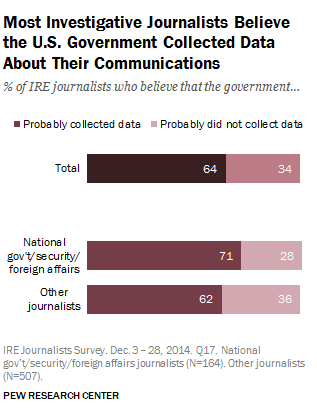 PEOPLE DON'T CARE IF POLITICIANS DID DRUGS IN HIGH SCHOOL - HuffPollster: "Hardly anyone thinks candidates' high school drug use is a reason not to vote for them….Just 7 percent said that such drug use would be a disqualifying factor in their vote. Fifty-one percent said it wouldn't matter to them at all, while 24 percent said it'd make them less likely to vote for the candidate -- effectively the polling equivalent of 'I don't approve, but it's probably not enough to change my mind.' ...Twenty-one percent of Americans, including 15 percent of Republicans, said they definitely would not vote for a candidate who bullied classmates. Fifty-five percent of Americans said it was fair to talk about, compared to 28 percent who said it was not...In the same poll, more than 70 percent of Americans agreed that neither Mitt Romney nor Barack Obama's high school behavior revealed much about their personal characters, and three-quarters said more generally that it wasn't fair to bring up things a political candidate did in high school."
[HuffPost]
HUFFPOLLSTER VIA EMAIL! - You can receive this daily update every weekday morning via email! Just click here, enter your email address, and click "sign up." That's all there is to it (and you can unsubscribe anytime).
FRIDAY'S 'OUTLIERS' - Links to the best of news at the intersection of polling, politics and political data:
-President Obama's approval ratings remain historically polarized. [Gallup]
-Philip Bump tells the story of the Obama presidency in 510 Gallup headlines and puts Gallup's 50-state party ID trends into chart form . [WashPost on Gallup headlines and Gallup Party ID]
-Americans want regulation on private drones. [Reuters]
-90 percent of Massachusetts residents believe Dzhokhar Tsarnaev is guilty of the Boston Marathon bombing. [Boston Globe]
-Aaron Blake sees Scott Walker in first or tied in early Iowa and New Hampshire polling. [WashPost]
-Amy Walter explains why California's many experiments to reform elections have failed to reverse voter apathy. [Cook Political]
-Joel Achenbach reports on why so many reasonable people doubt science. [National Geographic]
-Elizabeth Wilner describes the move towards "programmatic" advertising by campaigns. [Cook Political]
-DJ Patil joins the White House as data scientist-in-residence. [Gigaom]
-58 percent of Americans are sure that time travel is never going to happen. [YouGov]
BEFORE YOU GO
PHOTO GALLERY
Aging in Office