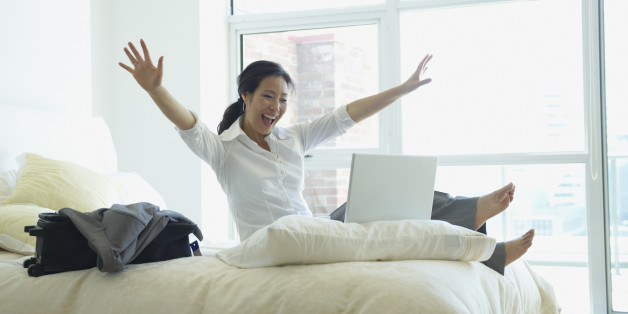 Even if you've cross-checked your sources, called your airline and waited until the precise optimal date to book your flight, a sense of panic can set in after the final ticket purchase is made. You're locked. You're loaded. You're taking this flight, and there's no turning back. Right?
Not quite, if you're a fan of the same-day flight change. This little-known process allows you to change your domestic flight on almost any major airline for minimal or no fee, provided you swap for a flight that leaves on the same day as your original. It's pretty much the best thing an indecisive traveler could imagine.
For example, if your out-of-town meeting ends early, you can pull a same-day flight change and come home on an earlier plane. Or if you're having too much fun visiting friends and need a few more hours to soak it in, you can pull a same-day flight change and leave later.
Or if the flight you really want is too expensive at the time of booking, you can purchase a cheaper one and then pull a same-day flight change on the day that you travel, therefore securing a spot on your dream flight for less money.
We're just sayin'... it's a pretty smart move.
When requesting a same-day flight change, most airlines require you to switch to a flight that not only leaves on the same day as your original one* (see below) but also travels between the same airports. Some airlines allow you to make the swap during the 24 hours before your original flight, while others won't let you do it until midnight on the day of your actual trip.
Fees for the swap are rarely over $75, and they're often lower. They vary from $0 (if you've got Gold status on United, for example) to $25 (thanks, Alaska Airlines!), to $50 on Delta and $75 on American. Many airlines offer an online flight change, some require you to make the swap over the phone, and others require you to be inside the airport -- check your airline's "same-day flight change" policy to plan your strategy.
(Pro tip: Never underestimate the power of calling an airline rep to explain your situation verbally. When we recently called to swap a flight on JetBlue, the agent allowed us to swap BEFORE the same-day time window, AND she let us fly out of a different airport. Yay for human-to-human connection!)
Whenever and however you choose to same-day flight swap, there's no denying it's a cheap way to score a new flight when your trip's timing doesn't work out as planned (or when you want to get more award miles, or when you're hungover...).
Here's to hacks and happy travels!
*Most airlines require you to swap for a flight that leaves on the same calendar day as your original one. A notable exception is United, which allows you to swap for any flight that departs within 24 hours of the time your request is made.
PHOTO GALLERY
Best Budget Airlines
BEFORE YOU GO
PHOTO GALLERY
America's Best and Worst Airports for Flight Delays