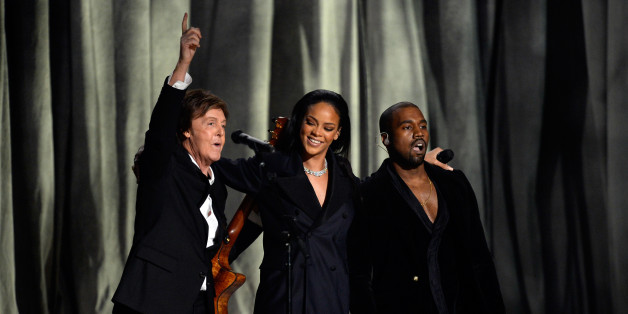 For the first time in six years, the Grammys fell right in the middle of #YeezySeason. Kanye West performed both "Only One" and "FourFiveSeconds," his collaboration with Rihanna and Sir Paul McCartney, on Sunday night.
"Only One," which West wrote from the perspective of his late mother, Donda, was first.
The Grammys teased that West's first song would be "a never-before-seen solo performance," but that proved sort of untrue. West already performed "Only One" in concert last weekend.
"FourFiveSeconds," which will appear on forthcoming albums by West and Rihanna, was next. West was joined by Rihanna for the track, with McCartney accompanying on guitar (and hand claps).
The Grammys waited until the veritable last minute to announce West's presence. He was added to the star-studded bill on Tuesday morning and immediately became one of the best reasons to watch the show. His last Grammys appearance came in 2009, when he performed "American Boy" with Estelle and "Swagga Like Us" with Jay Z, T.I., Lil Wayne and M.I.A. (he even helped announce the winner in that year's Best New Artist category). Since, West has been outspoken against The Recording Academy, especially after "Yeezus" was snubbed in the top categories at last year's ceremony.
"I'm 36 years old and I have 21 Grammys," West said during a concert in 2013. "That's the most Grammys of any 36-year-old. Out of all of those 21 Grammys, I've never won a Grammy against a white artist. ... So when the Grammys nominations come out, and 'Yeezus' is the top one or two album on every single list, but only gets two nominations from the Grammys, what are they trying to say? Do they think that I wouldn't notice? Do they think that, someway, that I don't have the power to completely diminish all of their credibility at this moment?"
Continued West: "But no, no. Only positive energy, only positive vibes. But when you see me talking about what people are doing when I say 'marginalized,' when I say 'boxed in,' when I say 'hold back,' when I say 'people are afraid of the truth,' that's one example right in front of you. And people come to me and they congratulate me on those two nominations. Fuck those nominations."
BEFORE YOU GO
PHOTO GALLERY
The 2015 Grammys Red Carpet