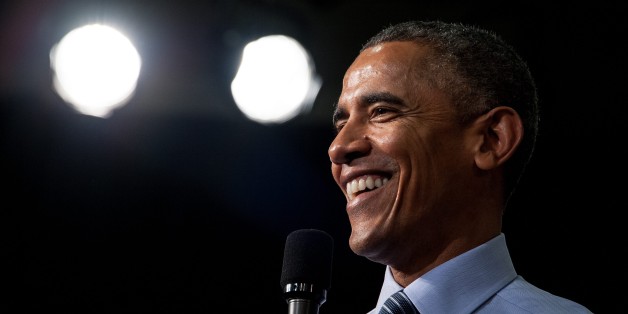 AP-GfK finds growing optimism about the economy and the president. A new NH poll continues to show a competitive GOP field. And CQ Researcher dives deep into the state of political polling. This is HuffPollster for Monday, February 9, 2015.
GROWING APPROVAL FOR ECONOMY AND PRESIDENT OBAMA - Emily Swanson: "Americans' views of President Barack Obama have improved slightly in the past two months, and opinions are more positive about the direction of the country and the health of the economy, an Associated Press-GfK poll finds... Forty-seven percent of those surveyed approve of how Obama is doing his job, compared with 41 percent in December, and 51 percent approve of his handling of unemployment, compared with 44 percent before. Nearly half say the economy is good now, while 41 percent thought that in December. In December 2013, only one-third called the economy good. Approval of the way Obama is handling the economy improved slightly, 41 percent to 45 percent, over the past two months…But people still feel that their own recovery is lagging, the poll shows, with only 35 percent saying their own family has completely or mostly recovered from economic downturn. Just 27 percent see the job market where they live as being most of the way to recovery, far less than the number that thinks big businesses (55 percent) and the stock market (53 percent) have bounced all the way back. In spite of growing optimism about politics and the economy, 8 in 10 people questioned have little confidence that Obama and Republicans in Congress can work together to solve the country's problems." [AP]
How high is the ceiling on Obama's approval? - David Lauter: "President Obama's standing with the public likely will continue its recent upward trend following the latest positive economic news, but new data on the country's polarized politics suggests he'll soon bump up against a low ceiling. The labor market data released by the federal government on Friday showed the best three months of job growth since the mid-1990s, an increase in the percentage of Americans who are working and the first signs of wage growth. That's the kind of good news that usually sends presidential approval ratings upward. But political polarization exerts a powerful pull in the other direction: Much like President George W. Bush before him, Obama faces near unanimous disapproval from opposing partisans that is deeply dug in and unlikely to change….In the past half century, the only years that showed more polarization than Obama's sixth year were his -- and Bush's -- fourth and fifth years. All of that suggests that Obama's overall approval rating probably will not rise much above 50% for any sustained period." [LA Times]
Four signs of an improving U.S. jobs situation - Drew DeSilver, summarizing Bureau of Labor Statistics: "[1] More people are getting back into the labor market, even if they don't immediately find jobs. [2] More people who want work are actually looking for it. [3] More people are quitting their jobs. [4] The unemployed are spending less time out of work." [Pew]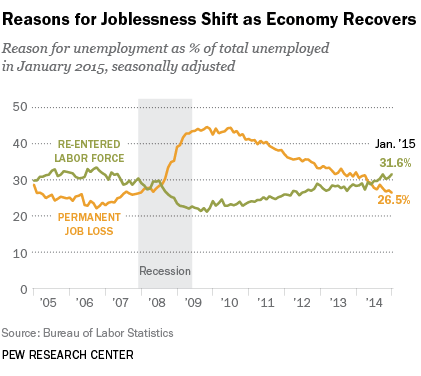 ANOTHER NH POLL SHOWS NO GOP CANDIDATE OVER 20 PERCENT - Michael Bender & Lisa Lerer: "Jeb Bush has taken a slight lead over other potential Republican presidential candidates in a new Bloomberg Politics/Saint Anselm New Hampshire poll...Bush now leads with just 16 percent. Senator Rand Paul of Kentucky is second with 13 percent, Wisconsin Governor Scott Walker is at 12 percent, and New Jersey Governor Chris Christie, coming off a controversy-filled overseas trip, is at 10 percent...The poll also shows former Secretary of State Hillary Clinton dominating her potential Democratic rivals. Clinton, who won the state's presidential primary in 2008, is the first choice of 56 percent of Democratic primary voters. Senator Elizabeth Warren of Massachusetts, who has said she isn't running, is second at 15 percent, while Vice President Joe Biden and Senator Bernie Sanders of Vermont both have 8 percent." [Bloomberg]
WHAT TO MAKE OF EARLY POLLS, WALKER 'SURGE'? - Jonathan Bernstein: "Let's talk early-stage presidential primary polls. Wisconsin Governor Scott Walker has had something of a surge over the last week. What should we make of it? Is there any information to be squeezed out of these polls?...the latest polls tell us almost nothing about voters. Most people aren't paying attention yet, which is why a bit of positive publicity for a candidate can shift polling quite a bit. Voters aren't reporting firm decisions; they're just responding to what's been in the news lately. If these early polls are important, it is only because of the way the people who pay close attention to Republican Party politics react to them. That's the real thing to watch, going forward." [Bloomberg]
CQ RESEARCHER: BROAD OVERVIEW OF POLITICAL POLLING - Chuck McCutcheon: "Smart phones, social media and the Internet have made it easier than ever for people to make their views known, but the new technology can make it harder for political pollsters to gather and measure public opinions with precision or consistency. They face public suspicions of partisanship, reluctance to provide candid answers and — as cellphone use grows — difficulty reaching respondents by the traditional method of random calls to household landlines…Polling has become entangled in the nation's prevailing polarized political climate, with both politicians and the public questioning the validity of polls." The CQR report provides a broad overview of recent issues and controversies facing the polling world. It is available by subscription or single issue purchase only. [CQ Researcher]
HUFFPOLLSTER VIA EMAIL! - You can receive this daily update every weekday morning via email! Just click here, enter your email address, and click "sign up." That's all there is to it (and you can unsubscribe anytime).
MONDAY'S 'OUTLIERS' - Links to the best of news at the intersection of polling, politics and political data:
-Harry Enten lists the 10 biggest busts in recent presidential primary history. [538]
-Historically, candidates who've lost their home state also lost the presidency, Philip Bump finds. [WashPost]
-Most Americans support paid paternity leave. [YouGov]
-72 percent of Americans are concerned about public pension costs. [Reason]
-DailyKos Politics is compiling a database of pollsters' web sites and Twitter accounts. [@DKElections, Google Doc]
-Gallup CEO Jim Clifton calls 5.6 percent unemployment a "big lie"; Wonkblog's Matt O'Brien disagrees. [Gallup, WashPost]
-Gender drives whether a professor is perceived as "bossy" or "brilliant." [NYT]
-What Microsoft's purchase of Revolution Analytics could mean for R statistics. [InfoWorld]
-John Sides remembers political scientist Ray Wolfinger. [WashPost]
BEFORE YOU GO
PHOTO GALLERY
Politicians Then And Now