Although the new year no longer seems, well, new, you don't need to settle into the doldrums of winter on account of the solar calendar. (Who needs it, anyway?) In many Asian countries, the New Year is dictated by the first new moon and ends on the full moon, so the party will continue well into February.

And rest assured: just as there are many ways to say "happy new year," so too are there myriad ways to eat your way to happiness. In partnership with the bold new Camry, we've discovered seven bold twists on traditional recipes that will help you ring in the Lunar New Year with a full stomach and a healthy dose of good luck.
Nian Gao
(or nin gou in Cantonese)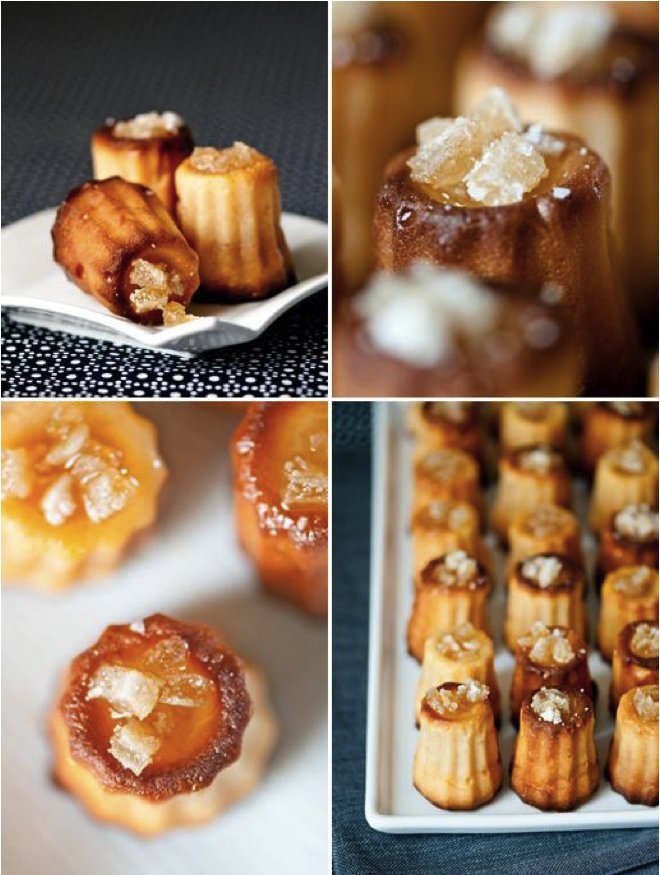 Ken Leung, Hungry Rabbit NYC
What is it? Loosely translated as "year cake," it's a steamed dessert that combines rice flour, almond extract and Chinese brown sugar to make a sweet, sticky treat, and is popular during the Lunar New Year.
Fun fact: In Chinese, nian gao is a homophone for "high year," which portends good luck.
Try it with a bold twist: Try this recipe, which translates traditional nian gao into a ginger-spiked canelé, an East-meets-West interpretation that's "full of auspicious symbols."
Tteokguk (Korean Rice Cake Soup)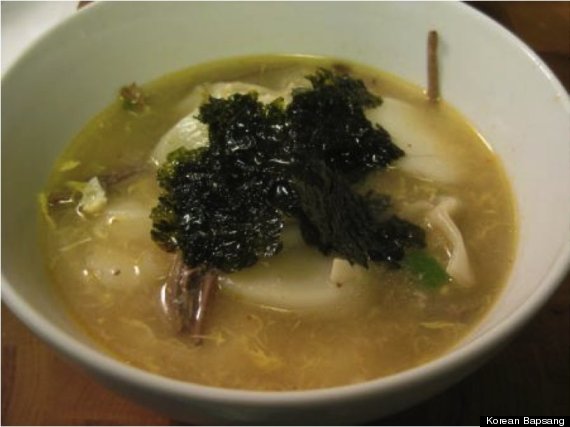 What is it? Tteokguk is usually a beef broth-based soup served with sliced rice cakes. (To wit: tteok = "rice cake," "guk" = soup.) It's a simple, traditional Korean dish that is served in celebration of the Lunar New Year -- and turning one year older.
Try it with a bold twist: Serve with fried eggs, roasted seaweed and shredded meat for a more colorful, upscale presentation.
Jai (or "Buddha's Delight")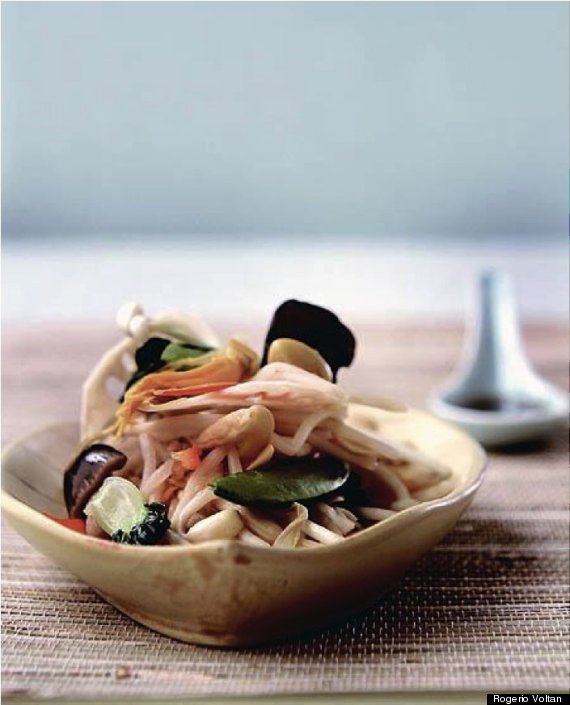 Michael Tong, Shun Lee Cookbook (published in the Pittsburgh Post-Gazette)
What is it? A vegetarian stew, traditionally served on the first day of the Lunar New Year. Ingredients vary from household to household, but each ingredient has a particular significance. For example, noodles are included to symbolize longevity, while Chinese black mushrooms might "fulfill wishes from East to West."
Try it with a bold twist: Although this dish is made to be adapted, one unexpected way to change it up is to serve it as a cold, crisp salad. This version includes gingko nuts (hope for silver and wealth), lotus root (to encourage male offspring) and wood ear mushrooms (for longevity).
Xôi (Vietnamese Sticky Rice)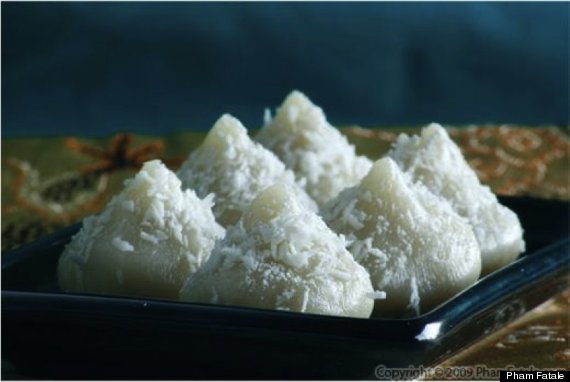 What is it? A sweet, glutinous rice dish that can be interpreted as a dessert, main dish or snack with just a few small tweaks. Bánh tét, a sweet cake made of sticky rice, is particularly popular in Vietnam during their Lunar New Year celebration, called Tét.
Try it with a bold twist: This recipe emphasizes the coconut flavoring and marries it to nontraditional milk chocolate, and we're not even mad.
Dill Jiaozi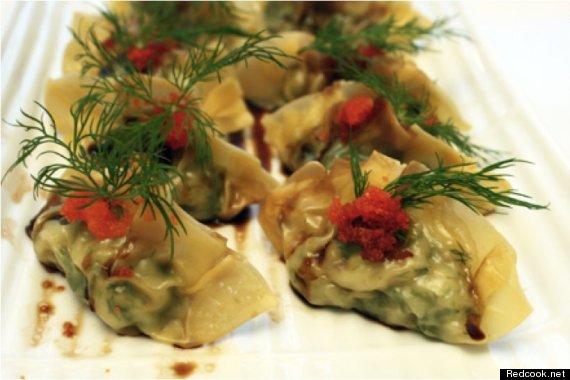 What is it? Cantonese-style dumplings, usually containing ground meat or a vegetable filling. They're popular in Northern China during the Lunar New Year, as they are often shaped to resemble an ancient gold ingot -- a symbol of wealth.
Try it with a bold choice: While pork is the expected filling for these dumplings, try it with in-season, fresh Dungeness crab meat. (If you're not lucky enough to get this West Coast specialty and don't want to splurge on overnight delivery, any kind of fresh crab should do.) Topped with flying fish roe and dill, this is an elegant take on a humble classic.
Guthuk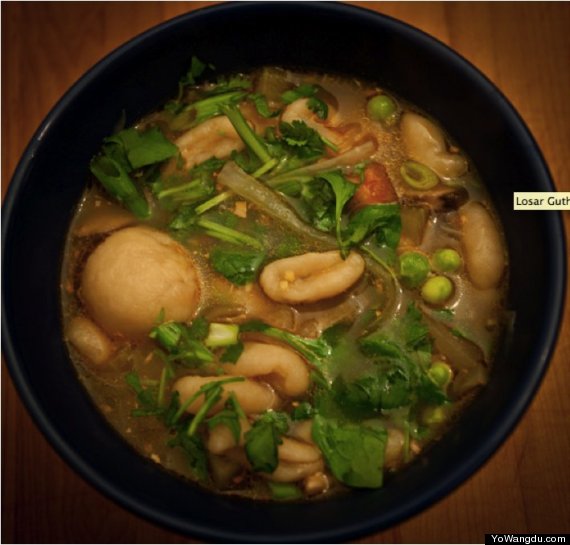 What is it? Guthuk is a noodle soup eaten in Tibet the night before Losar, the Tibetan New Year. It's supposed to cleanse you of any negativity from the previous year and portend good luck to come. Traditional guthuk includes meat (yak or beef); dried cheese; vegetable ingredients like celery, radish, peas, tomato and spinach; and a large dough ball. Inside the dough ball is a hidden message!
Try it with a bold twist: This recipe is a lighter, vegetarian take on the traditionally meat-laden stew.
Mứt Tắc (Candied Kumquats)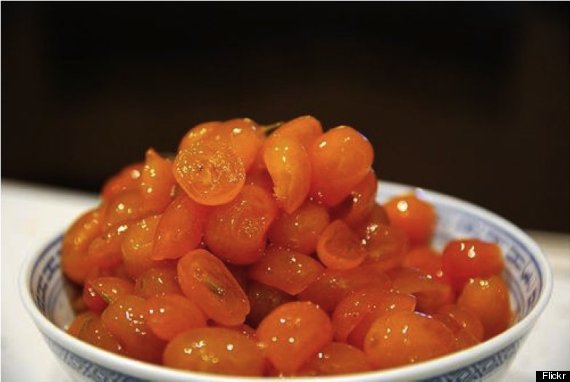 What is it? Kumquats are trees that bear small citrus fruits. Certain varieties of the fruit, such as the oval kumquat, can be eaten whole (i.e., with the skin on). During Tết, the Vietnamese Lunar New Year, kumquat trees adorn living rooms in a symbol of good luck and fertility.
Try it with a bold twist: Simmer the fruit in warm, bold spices like ginger, cinnamon, star anise and clove for an extra punch of flavor.
One bold choice leads to another. Toyota Camry is encouraging you to make bold choices in celebration of the Lunar New Year. Let's Go Places! Find out more about the Bold New Camry here.