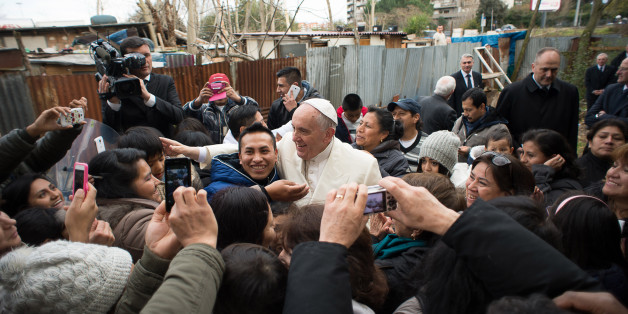 Residents at Campo Arcobaleno, or Camp Rainbow, in Rome had the surprise of a lifetime when Pope Francis showed up for an unannounced visit on Sunday.
The pontiff was on his way to the nearby parish of San Michele Arcangelo to celebrate Mass when he asked his aides to make a detour at the shantytown, Reuters reports.
Italian television station TV2000 captured the scene as Pope Francis greeted the shocked crowd, many of whom reportedly come from South America:
"He got out of the car and people were shocked when they saw him in front of their shacks," Father Aristide Sana, the pastor of the local parish, told Vatican Radio.
A fierce advocate for the poor and disenfranchised, Pope Francis made a similar visit to the Varginha favela, or slum, in northern Rio de Janeiro in July 2013, where he denounced the "culture of selfishness" that increasingly widens the gap between rich and poor.
The issue hits close to home for Pope Francis, who is the son of Italian immigrants and grew up within minutes of an impoverished slum in Buenos Aires. As a Jesuit, Pope Francis took a vow of poverty and worked closely with poor populations in his capacity as priest and later as archbishop of Buenos Aires.
Domingo Bresci, a priest who worked with Francis in Argentina, told The Guardian shortly after he was selected to be pope:
"He is going to have an impact on the world. He'll change the power structure of the church and challenge the ostentatious pomp of the Vatican."
BEFORE YOU GO
PHOTO GALLERY
Pope Francis Visits Rome Shantytown