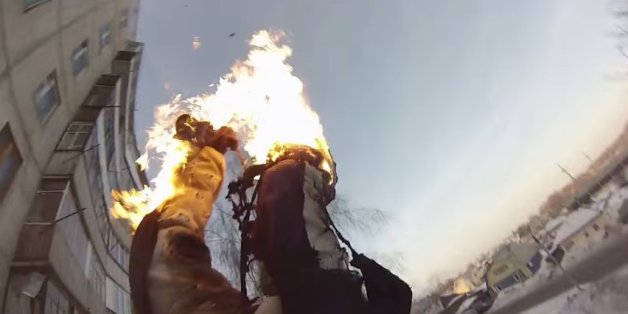 Putin on a show in Russia isn't easy.
Self-proclaimed stuntman Alexandr Chernikov shows off by lighting himself on fire and jumping off of buildings. He and his buddies released his latest fiery plummet on Friday, and it's every bit as crazy as it sounds.
DON'T TRY THIS AT HOME, DEAR READERS:
In the video -- which can be viewed from Chernikov's perspective on YouTube -- the teen lights his legs on fire with a torch before jumping into the snow below, screaming all the way down. He survived and appeared to be fine.
It's not the first time he's taken a burning leap off a building, but it's probably the most dangerous stunt featured on his YouTube channel.
Like Us On Facebook |

Follow Us On Twitter |

Contact The Author