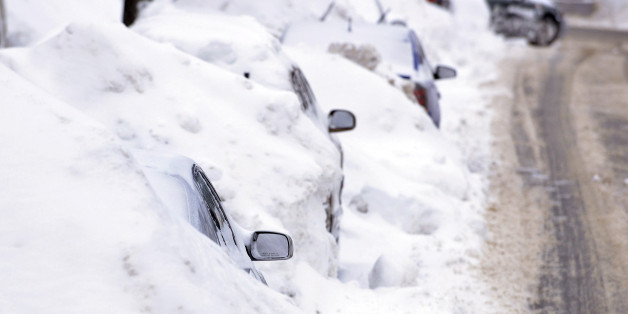 A major snow storm hit New England for the third time in two weeks, dumping 2 feet of snow on the city of Boston. Quincy and Rockland, south of Boston, have received nearly 30 inches, according to the National Weather Service.
By Monday afternoon, Boston snowfall totals for this winter had already reached 73.9 inches, making it one of the top 10 snowiest winters in the city's history. This winter has also set records for the city's most snowfall in a 30-day, 20-day and 14-day period.
The storm prompted Massachusetts Gov. Charlie Baker to declare a state of emergency Monday evening. MBTA rail service was suspended in Boston on Tuesday, but major highways are clear and some buses are operating. Hundreds of flights were also canceled.
So much snow has fallen that the city is considering dumping it in the Boston Harbor as a last resort. This was common until 1990, when efforts were made to clean up the harbor, The Boston Globe reports. With road salt, motor oil, dog poop and other contaminants in the snow, dumping it in the water carries of a host of environmental implications.
Up to 6 more inches are forecast for Boston and parts of coastal New England later this week. The next storm is expected to dump several inches on the Great Lakes region before reaching New England.
[Thurs - Fri] Another winter storm?! Looking likely & here's our first-guess of snowfall amounts pic.twitter.com/kLSA483PO7

— NWS Boston (@NWSBoston) February 10, 2015
Check out photos of the snow below:
Little bit of snow in Beacon Hill. #Snowmageddon2015 #BOSnow pic.twitter.com/O5ctBai3Ca

— Jamie Thompson (@Jamie_Thompson) February 10, 2015
@sue_oconnell1 absolutely. I have this other one as well :-) pic.twitter.com/4jebe8SJng

— Juan Carlos (@Juan_Kas_G) February 10, 2015
Standing on the pond. pic.twitter.com/pnf1iwGbWI

— Rachel Olsen (@IAmRachelOlsen) February 10, 2015

Will Chapman, of Oakland, Calif., shovels out a parking space after digging out his car from between snow piles near the house he was visiting in Somerville, Mass., Tuesday, Feb. 10, 2015. (AP Photo/Josh Reynolds)
BEFORE YOU GO
PHOTO GALLERY
January 2015 East Coast Snow