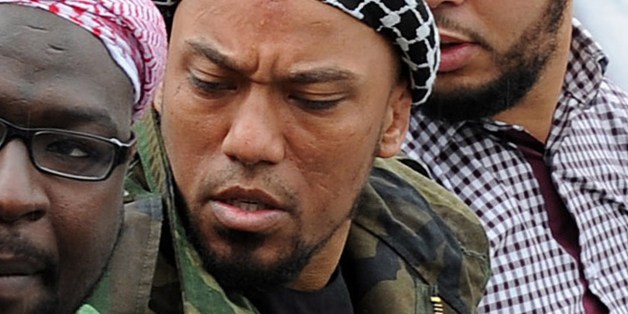 A former rapper has landed on the United States' global terrorism list over his connection to the Islamic State group.
On Monday, the U.S. Department of State announced Denis Cuspert is now a Specially Designated Global Terrorist. The U.S. says Cuspert, 39, who goes by the name "Abu Talha al-Almani," appears to be a recruiter for the militant group, also known as ISIS or ISIL. He has appeared in numerous videos for the Islamic State, including one from early November in which he holds the severed head of a man who supposedly opposed the organization. From the Department of State:
Cuspert has pledged an oath of loyalty to ISIL leader Abu Bakr al-Baghdadi and appears to serve as an ISIL recruiter with special emphasis on recruiting German speakers to ISIL. Cuspert is emblematic of the type of foreign recruit ISIL seeks for its ranks – individuals who have engaged in criminal activity in their home countries who then travel to Iraq and Syria to commit far worse crimes against the people of those countries ... Cuspert has been a willing pitchman for ISIL atrocities. Cuspert is also wanted by the German government on suspicion of involvement in terrorist activities in his home country.
Denis Cuspert was born in 1975 to Ghanian and German parents, according to Germany's Local newspaper. He rapped under the name "Deso Dogg" in Berlin as far back as 2002 but began associating with extremists in 2010. Two years later, he left to join the Islamic State in Syria.
The former hip-hop artist, who achieved modest success in Germany and even toured with rapper DMX, has since spoken out against his old life in propaganda for the group, according to Yahoo!.
"I was a sinner. I lived in sin before I turned to Islam. Surrounded by music, drugs, alcohol and women," he said in one video, urging Muslims around the world to join the Islamic State caliphate.
According to the International Centre For Radicalisation Studies, the number of foreign fighters from western countries who have joined militants in Syria and Iraq, including the Islamic State group, has risen to almost 4,000. Between 500 and 600 of them are Germans.
Iraq expert Falko Walde told Germany's Die Welt that the Islamic State's western fighters are important to the group for propaganda purposes. "It's important for the terror group to say its fighters are not just from Iraq, Syria and the Gulf states, but also from Europe," Walde said.
BEFORE YOU GO
PHOTO GALLERY
Syria War In February