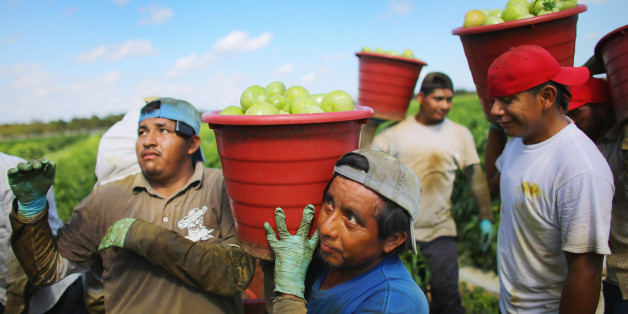 A small group of workers in Florida began meeting weekly back in 1993 in a room borrowed from a local church to talk about how they could start improving their lives. About 22 years later, that small group has transformed into a powerful force for fairness in the labor market -- and even the White House has noticed.
On Jan. 29 in Washington, D.C., Secretary of State John Kerry gave the 2015 Presidential Award for Extraordinary Efforts to Combat Trafficking in Persons to the Coalition of Immokalee Workers (CIW) -- an advocacy group focused on removing injustice from Florida's tomato sector. The crop is a $1.3 billion industry in the U.S., and Florida is the leading producer among all states.
The White House noted the "excellent work" being done through CIW's Fair Food Program, which connects farmers, farmworkers and retailers to ensure all workers are paid fairly and working conditions are humane.
According to The White House, the program's unique approach to promote consumer awareness and leverage market power -- working with such giants as Walmart, McDonald's and Subway -- has helped to fight labor trafficking within the Sunshine State's tomato industry.
As Kerry pointed out in his remarks honoring the group, CIW helped uncover several farm slavery operations throughout the southeast U.S. The coalition played a vital role in seven of nine major investigations into labor trafficking throughout the past 15 years, helping many of the 1,200 Florida farmworkers who were freed through the investigations.
"That is an extraordinary accomplishment, and reminds all of us not just of the work that we have to do, but that dedicated individuals, like those here with us today from the coalition, can strike out against injustice, break down barriers, and make the world of difference," Kerry said of CIW.
As a video produced by CIW points out, farm work has been among the lowest paid and least protected industries within the American economy for generations. Historically, farm workers in Florida have faced a number of injustices, including wage theft, sexual violence and forced labor.
The Fair Food Program works to fight such injustices by allowing partnered retailers to pay a "penny per pound" premium on the tomatoes, which growers pass on to their workers (a 2011 agreement between retailers, workers and growers through the program is expected to boost average wages from roughly $10,000 - $12,000 to $17,000, The New York Times reported).
In order to participate in the program, farmers must provide a fair wage to all workers, prohibit forced labor, enforce a zero tolerance policy regarding physical and sexual abuse and harassment, and adhere to safe working conditions (including clean drinking water and clean restrooms), among other guidelines.
At the January event, the White House noted its prioritization of cracking down on human trafficking through better monitoring and regulation of global supply chains.
As the International Labor Organization points out, nearly 21 million people are subjected to forced labor around the world.
During President Obama's trip to India, he spoke out about keeping international trade ethical in regards to how products are made.
"As we grow, we have to do it responsibly, and stay true to our values and uphold basic standards and rule of law," Obama had said. "We have to keep striving to protect the rights of our workers; to make sure that our supply chains are sourced responsibly."
BEFORE YOU GO
PHOTO GALLERY
The Faces Of Sex Trafficking