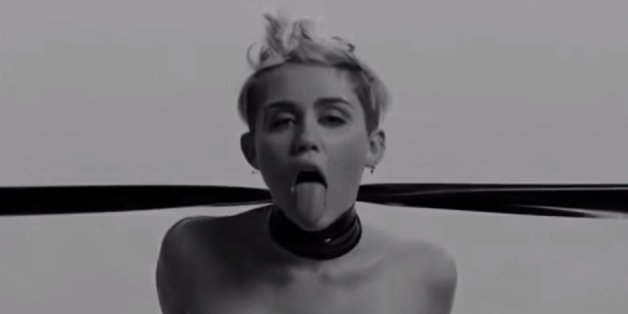 UPDATE: "Tongue Tied," a bondage-themed video starring Miley Cyrus, will not screen at the NYC Porn Festival.
"Miley was proud to make a film with acclaimed filmmaker Quentin Jones," a representative for Cyrus said in a statement to HuffPost Entertainment. "Neither she nor Quentin are participating in this 'festival' in any way."
Speaking to the New York Post, festival organizer Simon Leahy said he had permission to show the film, but blamed the video's production company for not doing its "due diligence."
"We asked to show it at the festival. Because the word porn is involved, basically the media has just sensationalized it and turned it into a clickbait story," Leahy said. According to the Post, no mention of the NYC Porn Festival website appeared in the email Leahy sent to the film's representatives.
EARLIER: Miley Cyrus has entered one of her music videos in a porn festival.
The New York Post reports that the 22-year-old singer submitted her bondage-themed video for "Tongue Tied" in the first-ever NYC Porn Film Festival.
Directed by mixed-media artist and filmmaker Quentin Jones, Cyrus first released the video last May. It played as an intro to Cyrus' show before she took the stage during her Bangerz tour last year.
The two-minute clip features a nearly nude Cyrus smearing herself with black oil as she writhes to the music, but festival-goers will see an extended cut that runs nearly twice as long as the original video, this according to the listing on the festival's website.
"It's a pop take on S&M," festival founder Simon Leahy told the Post. "[Cyrus is] starting to become more of a contemporary artist."
The NYC Porn Film Festival runs from Feb. 27 to March 1 in Bushwick, and also features a screening of former reality star Tila Tequila's award-winning video from Vivid Entertainment, "Tila Tequila: Backdoored & Squirting."
Watch the shorter version of Cyrus' video below. (Sensitive audiences will want to avoid watching at work.)
BEFORE YOU GO
PHOTO GALLERY
Miley Cyrus's Most Naked Pictures