Newsweek's Twitter account was hacked Tuesday morning by a group calling itself the "Cyber Caliphate," which claims to be connected to the militant Islamic State group.
The main banner and avatar of the publication's account was replaced with a masked man, the Black Standard flag and the phrase "Je su IS IS" -- a reference to the "Je Suis Charlie" slogan used after the deadly attack on the Charlie Hebdo offices by Islamic extremists in January.
The group claimed to have access to documents from the U.S. National Cybersecurity Center, and posted a message wishing first lady Michelle Obama a "Bloody Valentine's Day." According to Newsweek, the account was hacked for a total of 14 minutes, and the images and tweets have since been deleted.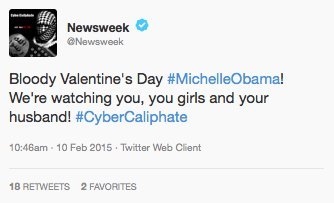 "We can confirm that Newsweek's Twitter account was hacked this morning, and have since regained control of the account," Newsweek managing editor Kira Bindrim said in a statement posted on the publication's website. "We apologize to our readers for anything offensive that might have been sent from our account during that period, and are working to strengthen our newsroom security measures going forward."
The Cyber Caliphate was reportedly also behind the hacking of the Malaysia Airlines website in January.