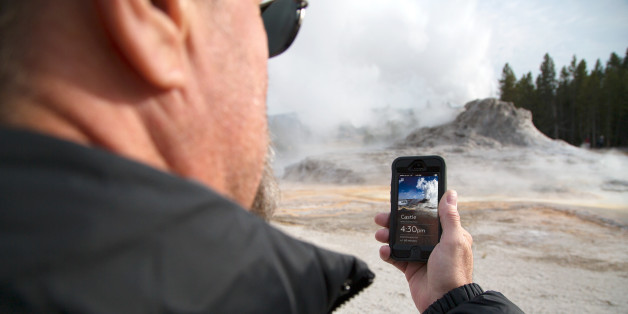 Clocks in Yellowstone National Park might be set to Mountain Standard Time, but everyone there knows "Old Faithful Time" is the only time that matters.
"People at the park don't look at their watches, they look at the boards to see how long it is before Old Faithful will erupt again," Brett Oppegaard, an assistant professor at the University of Hawaii's School of Communications, told The Huffington Post.
There's now a free mobile app to make that information even more accessible.
Working with the National Park Service, Oppegaard's team built NPS Yellowstone Geysers, an official and sanctioned National Park Service app. The app, which is available on Android or Apple devices, displays approximate times when Old Faithful, Grand, Castle and three other geysers in the park will erupt.
It also displays a map of the geysers, a live stream of Old Faithful, and various National Parks Service social media feeds to relay the latest updates and information about Yellowstone.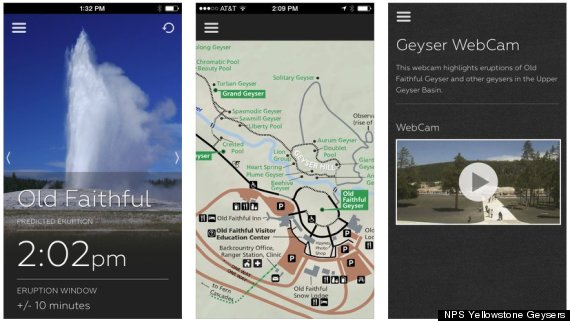 A screenshot of the NPS Yellowstone Geysers app for iPhone.
As Yellowstone's most famous geyser, Old Faithful spews an estimated 3,700 gallons of water roughly 17 times a day. Typical eruptions last one and a half minutes and can be predicted with 90 percent accuracy inside a 20 minute window.
It's impossible to predict more than one eruption in advance, however, since each eruption affects the next one.
Oppegaard thought it was interesting that people in the park often plan their days around these predictions, and wanted to develop the app to show that "you could shift the perspective of time around eruption time, or geologic time, versus Mountain Standard Time."
Ten minutes before Old Faithful is scheduled to erupt, for example, the app sends a push notification, followed by another alert that tells you when the window has begun. The app shows the eruption's predicted time, and, for Old Faithful, adds a 20 minute window. For nearby Grand Geyser, the window can be three hours.
"At its best, the app allows users to become aligned with Old Faithful time," Oppegaard said in a statement. "Even the person just sitting at a desk in some cubicle maze somewhere can be alerted that Old Faithful is about to erupt, turn on the mobile cam, and then join the real-time party of people around the globe enjoying this majesty of nature."
BEFORE YOU GO
PHOTO GALLERY
Yellowstone