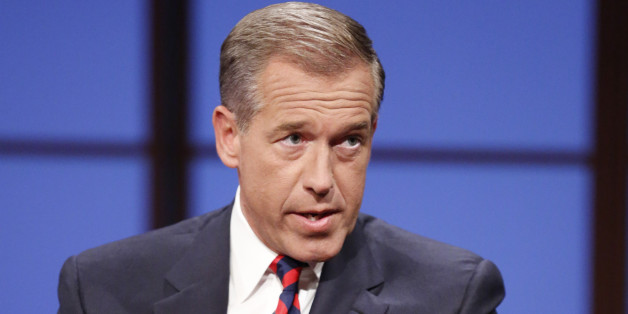 After a week of controversy around Brian Williams' recount of an incident during the Iraq War, a significant fraction of Americans view him as untrustworthy, and think he should be suspended or resign.
Brian Williams' credibility and favorability are low among Americans, according to a HuffPost/YouGov poll conducted this week.
While 34 percent of Americans believe that Brian Williams is still trustworthy, 40 percent find him untrustworthy. Although he remains better known than other news anchors, 40 percent of those surveyed rate him unfavorably. His net favorability currently sits at -5 percent, lower than that of Anderson Cooper, Scott Pelley, David Muir or Shepard Smith.
Williams came under scrutiny last week after questions arose over the validity of his claim to have been on a helicopter that was shot down by RPG fire in Iraq in 2003. Williams quickly released a public apology stating that he had misremembered the event.
Seventy-two percent of Americans surveyed say they have heard about the allegations that Williams lied.
When asked about what the consequences should be if Williams did lie about coming under fire in Iraq, 30 percent of Americans say he should resign; 27 percent say he should give an apology and full explanation on his show; 14 percent say his recent apology is enough; 12 percent say he should be suspended from NBC without pay for at least a month; and 17 percent are not sure.
Respondents that identified as Republican took a stronger stance, with 47 percent saying Williams should resign, compared to only 17 percent of Democrats.
Williams recently announced that he was taking a temporary leave from "NBC Nightly News." Before the controversy broke, Williams' newscast ranked No. 1 in total viewers and among key demographics, nearing audiences of ten million people each night in early January, according to NBCUniversal.
An earlier poll by Rasmussen Reports found that 40 percent of Americans felt that Williams should resign.
According to the research firm The Marketing Arm, prior to his on-air apology, Williams was ranked as the 23rd most trusted person in the country. His ranking dropped to 835 after he apologized.
More broadly, the HuffPost/YouGov poll found 47 percent of Americans think television reporters are at least somewhat trustworthy, while 42 percent say they're somewhat or very untrustworthy.
Ariel Edwards-Levy contributed to reporting.
src="https://today.yougov.com/huffingtonpostwidget/live/webpollwide1.html?id=2384">

The HuffPost/YouGov poll consisted of 1,000 completed interviews conducted Feb. 8-9 among U.S. adults using a sample selected from YouGov's opt-in online panel to match the demographics and other characteristics of the adult U.S. population.
The Huffington Post has teamed up with YouGov to conduct daily opinion polls. You can learn more about this project and take part in YouGov's nationally representative opinion polling. Data from all HuffPost/YouGov polls can be found here. More details on the poll's methodology are available here.
Most surveys report a margin of error that represents some, but not all, potential survey errors. YouGov's reports include a model-based margin of error, which rests on a specific set of statistical assumptions about the selected sample, rather than the standard methodology for random probability sampling. If these assumptions are wrong, the model-based margin of error may also be inaccurate. Click here for a more detailed explanation of the model-based margin of error.