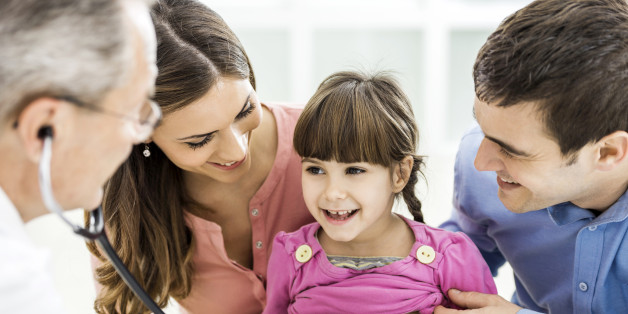 A huge majority considers the MMR vaccine safe for children. The emerging Democratic domestic policy agenda focuses on parents. And Hillary Clinton's advantage is hiding in plain sight. This is HuffPollster for Tuesday, February 10, 2015.
NO PARTISAN DIFFERENCES IN VACCINE VIEWS - Pew Research: "An 83% majority of the public says vaccines for diseases such as measles, mumps and rubella (MMR) are safe for healthy children, while about one-in-ten (9%) think such vaccines are not safe. An additional 7% volunteer that they don't know. Majorities across virtually every demographic and partisan group view the vaccines as safe. However, there are some differences in attitudes, with less educated people and younger adults more likely to say they are not safe.
The new national survey by the Pew Research Center, conducted Feb. 5-8 among 1,003 adults, finds Republicans (89%) and Democrats (87%) generally agree that such vaccines are safe for children who are healthy...Three-quarters or more in every age group say vaccines for MMR are safe. However, among adults 50 and older, 90% express this view, compared with 77% of adults 18-29 and 81% of those 30-49." [Pew]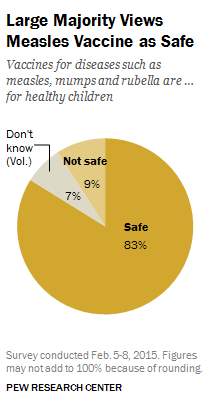 'No reason it should be otherwise' - Tara Haelle: "'Vaccines aren't a partisan issue. The consensus in favor of vaccination in this country is very strong and extends across every religious, racial and political group,' says Brendan Nyhan, an assistant professor of government at Dartmouth College, who has studied the way individuals assess information about vaccination. 'There's no reason it should be otherwise—communicable diseases don't care what party you support.' Indeed, a skim of other political contenders for 2016 reveals that the vast majority support vaccinating children against diseases." [Politico]
More on vaccination geography:
-The vaccination rate for every kindergarten in California, mapped. [NYT]
-States with looser immunization laws have lower rates of vaccination. [HuffPost]
EMERGING DEMOCRATIC FOCUS ON PARENTS - Nate Cohn: "The emerging Democratic agenda is meant to appeal to parents. The policies under discussion — paid family leave; universal preschool; an expanded earned-income tax credit and child tax credit; free community college and perhaps free four-year college in time — are intended both to alleviate the burdens on middle-class families and to expand educational opportunity for children. The result is a thematic platform addressing some of the biggest sources of anxiety about the future of the middle class....The parental agenda has the potential to resonate among the large group of voters with children under 18 at home, 36 percent of the electorate in 2012. It might also resonate among the already Democratic-leaning young voters of the Obama era, 18 to 29 years old in 2008, who are now entering prime childbearing years. The birthrate among millennials has dropped to near-record or record lows, depending on the age cohort, probably in part because of economic insecurity. Weekly earnings for full-time workers aged 25 to 34 are down 3.8 percent since 2000." [NYT]
CLINTON'S STRENGTH AMONG WHITE COLLAR WOMEN - Ron Brownstein: "Much of the debate about Hillary Rodham Clinton's potential appeal to female voters may be focusing on the wrong group of women. Probably the most frequently asked question about Clinton's possible coalition as a Democratic nominee in 2016 is whether she can win back the working-class white women who have moved away from her party since 1996. On that issue, the evidence is ambivalent in months of early polling that pits Clinton against potential Republican nominees. But polls over the past year almost invariably have found Clinton improving—often substantially—over President Obama's lackluster 2012 performance among white-collar white women....All polls of the 2016 race at this point are recording only distant impressions long before most voters have seriously focused on their choices. The actual campaign, and events yet to occur, will inevitably scramble the equation. Yet, especially with a candidate as familiar as Clinton, these early soundings can be viewed as a kind of rebuttable presumption: They sketch the coalition that may naturally gravitate to her unless opponents present them with a case not to." [National Journal]
HUFFPOLLSTER VIA EMAIL! - You can receive this daily update every weekday morning via email! Just click here, enter your email address, and click "sign up." That's all there is to it (and you can unsubscribe anytime).
TUESDAY'S 'OUTLIERS' - Links to the best of news at the intersection of polling, politics and political data:
-Governors John Kasich (R-Ohio) and Tom Wolf (D-Pa.) get positive marks in their states while Rick Scott's (R-Fla.) job rating remains under water. [Quinnipiac]
-40 percent of Americans want Brian Williams to resign, 35 percent do not, 25 percent are unsure. [Rasmussen]
-Williams has lasted longer than the average NBC anchor. [538]
-A large majority of Alabama voters likely oppose same-sex marriage. [NYT]
-Max Ehrenfreund wishes politicians would stop using the term "middle class." [WashPost]
-People with darker skin perceive slower police response times throughout the Americas. [WashPost]
-The Jewish population of Europe continues to decline. [Pew]
-1 in 4 Israeli voters are undecided about the March election. [Times of Israel]
-Britons oppose sending weapons to Ukraine. [YouGov]
-Millions who use Facebook don't realize they're using "the internet." [Quartz]
BEFORE YOU GO
PHOTO GALLERY
Where Politicians Stand On Vaccinations