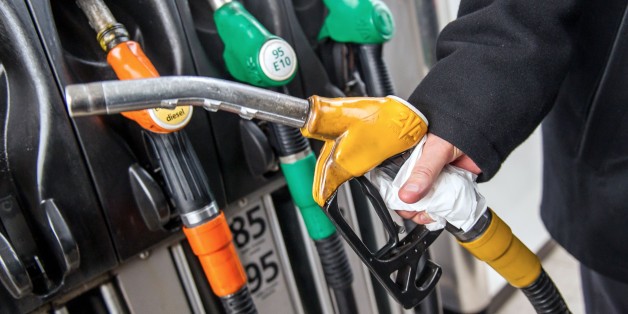 Good news about gas prices leads an improving economic outlook. Only a third of Americans consider Brian Williams trustworthy. And a majority says the measles now pose a bigger threat to Americans than Ebola did last year. This is HuffPollster for Wednesday, February 11, 2015.
VIEWS OF ECONOMY GROW MORE POSITIVE - Pew Research: "For the first time since the end of the recession in 2009, a greater share of the public is hearing mostly good news (28%) than bad news (22%) about the job situation. Nearly half (47%) say they are hearing a mix of good and bad news. This marks a stark change from a year ago, when just 12% said they were hearing mostly good news about jobs, while more than three times as many (42%) had negative perceptions; 44% described the news as mixed...A new survey by the Pew Research Center, conducted Feb. 5--8 among 1,003 adults, shows that views of news about the overall economy also have become more positive, although a majority (62%) continues to describe the news as mixed. For the first time since the Pew Research Center began tracking this question in December 2008, about as many are hearing mostly good news (18%) as bad news (17%) about the economy. In previous surveys, negative views had consistently surpassed positive impressions." [Pew]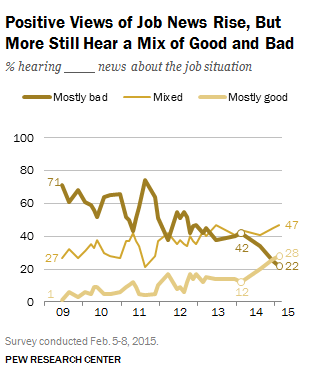 Views most positive on gas prices - More from Pew Research: "While positive perceptions of news about gas prices have more than quadrupled in the past year (from 14% to 62%), views of news about other sectors – food and consumer prices, real estate values and the stock market – have shown less change. Notably, perceptions of news about food and consumer prices remain far more negative (36%) than positive (14%), with 44% describing it as mixed. A year ago, 43% said news about food and consumer prices was mostly bad, 9% said it was mostly good and 41% called it mixed."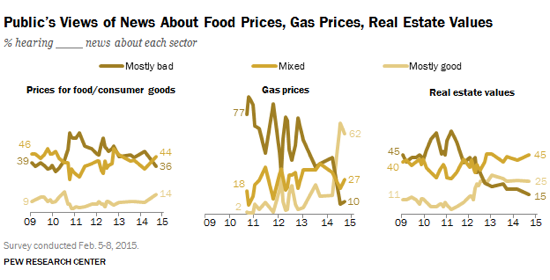 Gallup: economic confidence steady after sharp rise - Rebecca Riffkin: "U.S. Economic Confidence Index is steady at +3 for the week ending Feb. 8, the same score as the week before. This is the seventh straight week in which the index has been in positive territory....Gallup's Economic Confidence Index is the average of two components: Americans' opinions on the current economy and their views on whether the economy will get better or get worse....For the past five weeks, Americans have been more optimistic about the future of the economy than they have been in their ratings of current economic conditions." [Gallup]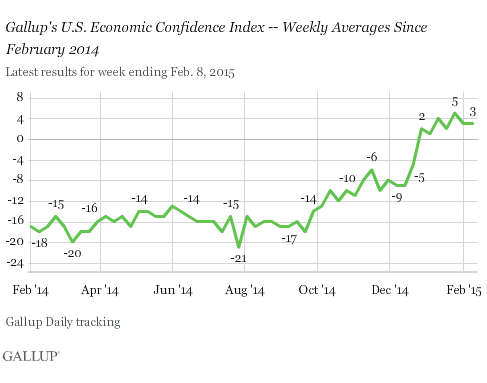 NO PARTISAN DIVIDE ON VACCINE SCIENCE - HuffPollster: "Seventy percent of Americans say the issue of whether children should be vaccinated is a matter of public health, while just 22 percent describe it as a personal choice. Just 21 percent know anyone who's decided not to vaccinate their own children. (In another sign of sound priorities, a majority also says the measles pose a bigger threat to Americans than Ebola did last year.)... Fifty-nine percent say the science supporting the safety of childhood vaccinations is indisputable...Democrats are 30 points more likely than Republicans to have at least a fair amount of trust in the government's vaccination policies. But Democrats and Republicans are about equally likely -- at 61 and 62 percent, respectively -- to say the science itself on vaccines is indisputable. More than 70 percent in both parties consider vaccination a public health issue….Liberals and conservatives do disagree on where exactly the anti-vaccine movement is centered, with both groups more likely to ascribe anti-vaccine politics to the other side. By a 15-point margin, liberals think conservatives are more anti-vaccine; conservatives say the same thing about liberals by the same margin." [HuffPost]
ONLY 34 PERCENT Of AMERICANS BELIEVE BRIAN WILLIAMS IS TRUSTWORTHY - HuffPollster: A YouGov/HuffPost Poll conducted prior to NBC's announcement on Tuesday of Brian Williams' six month suspension found that: "[A] significant fraction of Americans view him as untrustworthy, and think he should be suspended or resign...While 34 percent of Americans believe that Brian Williams is still trustworthy, 40 percent find him untrustworthy...His net favorability currently sits at -5 percent, lower than that of Anderson Cooper, Scott Pelley, David Muir or Shepard Smith...Seventy-two percent of Americans surveyed say they have heard about the allegations that Williams lied... When asked about what the consequences should be if Williams did lie about coming under fire in Iraq, 30 percent of Americans say he should resign; 27 percent say he should give an apology and full explanation on his show; 14 percent say his recent apology is enough; 12 percent say he should be suspended from NBC without pay for at least a month; and 17 percent are not sure. Respondents that identified as Republican took a stronger stance, with 47 percent saying Williams should resign, compared to only 17 percent of Democrats." [HuffPost]
HUFFPOLLSTER VIA EMAIL! - You can receive this daily update every weekday morning via email! Just click here, enter your email address, and click "sign up." That's all there is to it (and you can unsubscribe anytime).
WEDNESDAY'S 'OUTLIERS' - Links to the best of news at the intersection of polling, politics and political data:
-Gallup breaks out 2014 economic confidence by state. [Gallup]
-Just 32 percent of Alabama residents support same-sex marriage, lower than any other state in the nation. [PRRI]
-Marylanders like their new governor, but oppose his school funding plan. [WashPost]
-Aaron Blake charts the surge in Facebook mentions for Scott Walker. [WashPost]
-Mark Gersh (D) projects a roughly 20-seat pickup for Democrats in 2016. [NCEC via @DKElections]
-Sean Trende ponders what to make of John Judis' 'Republican Advantage.' [RCP]
-Mark Mellman (D) speculates about the coming battle for the 2016 Republican nomination. [The Hill]
-A PPP (D) poll for a Democratic client finds Kamala Harris leading the rest of the California Senate primary field. [The Hill]
-Fifty-nine percent of Pennsylvania voters think Penn State should restore its Joe Paterno statue to a place of prominence. [Quinnipiac]
BEFORE YOU GO
PHOTO GALLERY
Politicians On Pot