Pink would "rather go naked than wear fur" -- and that's not just lip service.
The 35-year-old singer has stripped down in support of the People for the Ethical Treatment of Animals' anti-fur campaign. According to E! Online, a 90-foot PETA billboard was erected in New York City's Times Square on Wednesday featuring the fresh-faced Pink in her birthday suit.
The ad, photographed by Ruven Afanador, was unveiled just in time for the start of New York Fashion Week.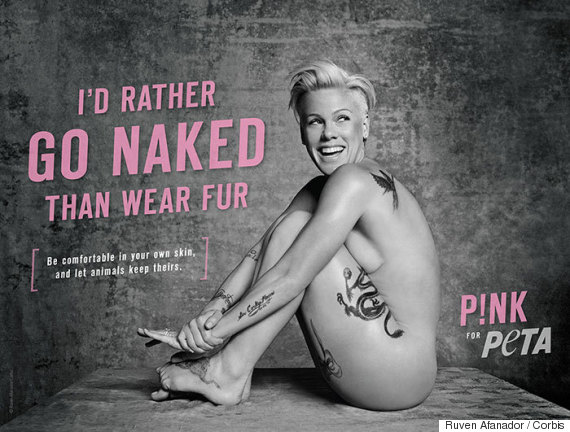 "I've always felt that animals are the purest spirits in the world," Pink, a long-time animal rights activist, told Us Weekly. "They don't fake or hide their feelings, and they are the most loyal creatures on Earth."
In a statement, the "Try" singer urged others to follow in her fur-free footsteps.
"I would like to say I've always been fur-free," she said. "Unfortunately, I went through a selfish phase and wore fur on a couple of occasions. But I wised up and now boycott fur completely. I wish everyone was forced to learn the horrors that these animals go through for fashion trends."
Previously, celebrities like Christy Turlington, Khloe Kardashian and Olivia Munn have stripped down for PETA's "Go Naked" anti-fur campaign.
BEFORE YOU GO
PHOTO GALLERY
Most Memorable PETA Campaigns