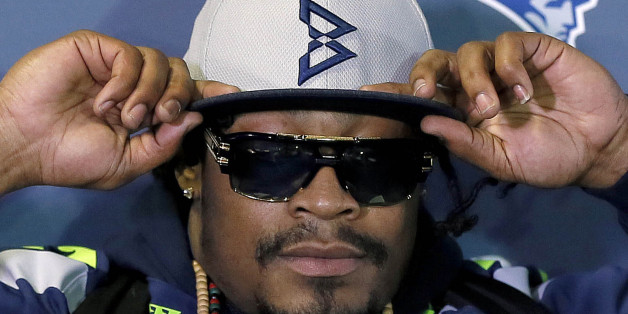 Marshawn Lynch's close friend, former Seattle Seahawks fullback Michael Robinson, said Thursday that he is unsure whether the star Seahawks running back will play next year. He also doesn't think Lynch knows either.
"I don't know [if he's going to play next year]. I don't think Marshawn knows yet," Robinson told an ESPN radio station in Seattle. "It's very difficult to ask a running back of all positions ... you how, has he had enough football? I mean, you can't ask him that right after the season."
Robinson noted during the interview, which is available to stream online, that while Lynch is still just 28, he's already played a lot of football over the course of his lifetime.
"It's a grind. I don't think people really understand that families are affected by playing football, your whole schedule, your life," Robinson said later in the interview. "People say, 'Yeah, you make a lot of money,' but there are some sacrifices there. I think Marshawn is just getting to a point in his life where maybe he wants to enjoy other things in life. And like, maybe other things are becoming important to him."
"Has he had enough football? You can't ask him that right after the season because your body is telling you 'yes,'" he added. "Right now you just have to let him wait it out, see how the offseason goes, let him get his body right again and then you will see if he wants to come back or not."
Robinson's comments came two days after Seahawks general manager John Schneider made similar comments on the same radio station. "Whether or not [Lynch] wants to play next year, I can't answer that," he said. "I don't know if he knows at this juncture."
"It's hard for these guys. This is a long season," Schneider added. "We've played a lot of football these last two years and especially the way this guy runs the ball, it's taxing on his body and so he has to reset himself and get in that mind-frame of, 'Okay, I'm ready to get moving here again and get prepared for another season of this."
Lynch is under contract to make $5 million next season, although there are rumors the Seahawks have offered Lynch an extension that would bump his 2015 salary above $10 million.