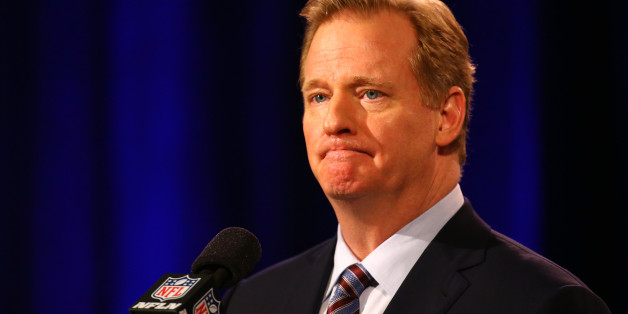 Roger Goodell made $35 million running a small non-profit known as the National Football League in 2013. For those who don't know about it, the league, commonly referred to as the "NFL," is a professional American football league in which players try to avoid getting "tackled," or taken down, before they reach the goal zone.
Goodell's compensation is down from $44 million in 2012, but it still makes him "one of the highest paid chief executives in America," according to The New York Times. For comparison's sake, Goldman Sachs CEO Lloyd Blankfein made $23 million in 2013, so, yeah.
In a statement, Atlanta Falcons owner Arthur Blank, who is chair of the league's compensation committee, called Goodell's 2013 compensation a "fair reflection of his leadership and contributions during the year." The league must legally disclose its executive compensation as part of its non-profit status.
The NFL is technically a non-profit trade organization, which is the reason it remains tax-exempt. But the league is pulling in $10 billion a year now, and politicians have calculated that the league avoids paying millions in taxes every year as a result of its non-profit status.
Earlier this month, Rep. Jason Chaffetz (R-Utah), who heads the House Oversight Committee, said he wants Roger Goodell to defend his league's non-profit status in Washington, D.C. Speaking about the Super Bowl, he said:
Was that a nonprofit event going on or was that a for-profit venture? It's a for-profit venture. You tell people that the NFL is a nonprofit entity and they just start laughing and giggling. But it's not fair. If there's another side to that, then let the commissioner come in and make that case.
During his first eight years as commissioner, Goodell has earned an average of roughly $19 million per year.