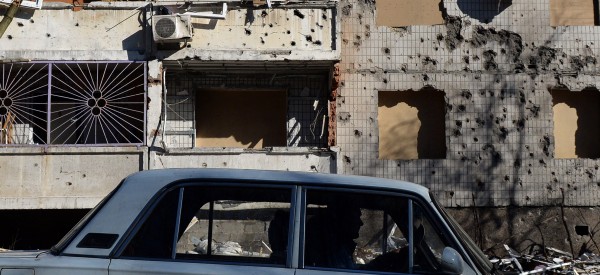 TOP STORIES
To get The Morning Email, HuffPost's daily roundup of the news, in your inbox, sign up here.
UKRAINE CEASE-FIRE MET WITH SKEPTICISM "A new cease-fire agreement was met in Ukraine with pledges to rearm and doubts that the latest deal offered little more than a pause before more bloodletting." [WSJ]
DAVID CARR DEAD AT 58 "David Carr, a writer who wriggled away from the demon of drug addiction to become an unlikely name-brand media columnist at The New York Times, and the star of a documentary about the newspaper, died on Thursday … Mr. Carr collapsed in The Times newsroom..." You can read all of his columns here, and the NYT magazine piece where he details his addiction struggle is a must-read. Tributes continue to pour in, as Alexis Madigral wrote, "Spill all the ink." [NYT]
22 MARINES INJURED IN TRAINING EXERCISE All are said to be in stable condition after being exposed to a fire retardant. [HuffPost]
NASA: MEGADROUGHT LOOMING FOR U.S. The drought currently plaguing California has nothing on the disastrous drought to come that could last for over 30 years, according to researchers from NASA, Cornell and Columbia. [WaPo]
THE SECRET ESCALATION OF THE SECRET WAR IN AFGHANISTAN Following the capture of a treasure trove of information on al Qaeda in a raid this fall, the U.S. has stealthily increased its night raids. The escalation is in sharp contrast to the picture being painted in Washington, "where the Obama administration has deemed the American role in the war essentially over." [NYT]
FBI OPENS INVESTIGATION INTO CHAPEL HILL DEATHS AS THOUSANDS MOURN "Thousands of mourners attended the funeral prayers on Thursday for three young Muslims killed in North Carolina, and the father of two of the victims urged U.S. authorities to probe whether religious hatred was a motive for the murders." Prayer vigils for the three have taken place across the country. [Reuters]
FBI DIRECTOR TACKLED RACE, BIAS IN LANDMARK SPEECH You can watch FBI Director James Comey's candid speech about law enforcement's struggle with bias in its entirety here. [NYT]
2016: BILL CLINTON MAY NOT BE ABLE TO COLLECT AS MANY BIG DONOR CHECKS "Headed into the 2016 presidential campaign, the Hillary Clinton camp has been confident it will be able to raise the kind of money that can scare off any Democratic challenger and compete with the GOP in the general election. Part of that confidence comes from knowing that two of the planet's best fundraisers -- former President Bill Clinton and Virginia Gov. Terry McAuliffe -- are core members of the team. But it may not be that simple. Lawyers involved with Hillary Clinton's as-yet-undeclared election effort are studying whether campaign finance laws significantly restrict the activities of both men, according to a source close to the discussions." [HuffPost]
WHAT'S BREWING
DRAKE DROPPED A SURPRISE ALBUM LAST NIGHT Started from the bottom … [The Verge]
MILITARY APPROVES HORMONE TREATMENT FOR CHELSEA MANNING Chelsea Manning, the soldier behind Wikileaks, has been approved for hormone therapy to transition to a woman at the Army's Fort Leavenworth prison. [USA Today]
NEWEST AMERICAN GIRL DOLL: ENTREPRENEUR "Doll company American Girl's star this year, Grace Thomas, is a budding bakery owner. The nine-year-old with a passion for baking, is a lot like your typical entrepreneur, dealing with obstacles as they arise -- but Grace is a doll. More toy companies are rolling out new products designed for young girls that tap into an influential marketing concept: the aspirational allure of an entrepreneur." [WSJ]
KANYE HAD A LOT GOING ON AT HIS NY FASHION SHOW He debuted his Adidas shoe, his wife and child sat next to Anna Wintour, and he dropped a new song featuring Sia. [HuffPost]
AMY PASCAL EX-SONY CEO: 'I WAS FIRED' Confirming what we all pretty much knew. [HuffPost]
JAMES FRANCO, J.J. ABRAMS AND STEPHEN KING ARE COMING TO HULU In a time-traveling series focused on JFK's assassination. [Deadline]
HOW A JANITOR AMASSES $8 MILLION Ronald Read, a janitor from Vermont, left behind a multi-million dollar fortune after his death at 92. His family and friends had absolutely no idea of the extent of his wealth. [WaPo]
ON THE BLOG
A BETTER DIVORCE "Divorce can send otherwise perfectly calm, rational adults into fits of irrational, immature, childish behavior. This is the time your children need you to truly be in your adult. To act in your adult means you do not burden your children with your own fears and negative emotions towards your ex-spouse and you do not constantly criticize him/her, remembering he/she is still the parent of your child, after all. Your child identifies with both of his parents understanding that he is part of each of them." [HuffPost]
BEFORE YOU GO
~ You can never have too many Ginuwine "Pony" covers.
~ Kate Middleton is glowing at the six month mark of her pregnancy.
~ Florence + The Machine's new album will be released June 2, and they dropped another single yesterday.
~ Dogs might be able to ride Amtrak soon!
~ Pamela Anderson filed for divorce for the third time from Rick Salomon.
~ Bradley Cooper, Cameron Crowe, Emma Stone, Rachel McAdams, Bill Murray, John Krasinski and Alec Baldwin all in a movie? Yes, please.
~ How does Blake Lively look this good two months after giving birth?
~ Big cheese: Anna Wintour's Vogue offices still have a rat problem.
~ Online dating, in all its glory.
~ Vote for your favorite GIFs of the year.
~ In honor of the Hubble telescope's 25th birthday, here are 25 of its best photos.
~ Rob Lowe will star in a TV show called "The Grinder" -- someone really did not consult the kids before approving that name.
~ Emile Hirsch has been charged with assault.
~ The best picture nominees in four minutes.
~ PSA for Valentine's Day: Viagra can turn your vision blue.
~ And welcome to the font machine of your dreams.
Enjoy the long weekend! The Morning Email will return on Tuesday.
Send tips/quips/quotes/stories/photos/events/scoops to Lauren Weber at lauren.weber@huffingtonpost.com. Follow us on Twitter @LaurenWeberHP. And like what you're reading? Sign up here to get The Morning Email delivered to you.