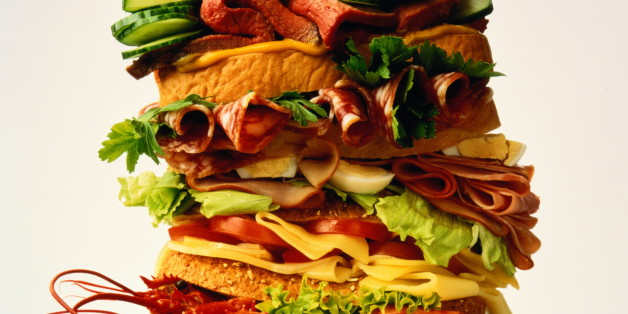 What is a sandwich? The answer seems obvious, until you actually start to think about it, and the lines start blurring. There are foods you pick up with your hands to eat, myriad types of bread and bread-like encasings, and endless other kinks in a sandwich's definition. It's a cruel world out there for sandwich purists.
February 3 marked the commencement of an important debate among some editors at The Huffington Post over what defines a sandwich. It all began when Associate Special Projects Editor Amanda Gutterman told Tech Editor Alexis Kleinman that she had a revelation: sushi is just another kind of sandwich. Needless to say, a heated discussion ensued in the arena best-suited for these kinds of deep, philosophical questions: Twitter.
@alexiskleinman if you use a carb as a container for a meat filling, it's a sandwich ama

— Amanda Gutterman (@amandagutterman) February 3, 2015
Indeed, as Kleinman rightly asked, "What is NOT a sandwich?"
After talk of pizza...
@amandagutterman @AlexCKaufman @LauralizHibbard PUT 2 PIECES OF PIZZA TOGETHER. SANDWICH.

— Alexis Kleinman (@alexiskleinman) February 3, 2015
... the conversation naturally turned to open-faced sandwiches.
@AlexCKaufman @alexiskleinman @LauralizHibbard an open-faced sandwich is a lie, otherwise everything would be one

— Amanda Gutterman (@amandagutterman) February 3, 2015
@AlexCKaufman @LauralizHibbard @alexiskleinman it stops being a sandwich the moment it has a face

— Amanda Gutterman (@amandagutterman) February 3, 2015
And if a consensus started brewing that sandwiches required bread enveloping something else, someone asked about bread bowls. Sandwich or not?
@AlexCKaufman @amandagutterman DONT TELL ME U HAVENT EATEN A BREAD BOWL WITH YA MITTZ

— Alexis Kleinman (@alexiskleinman) February 3, 2015
@alexiskleinman @amandagutterman i don't really "do" bread bowls

— Alexander C. Kaufman (@AlexCKaufman) February 3, 2015
Then the debaters entertained the following as possible sandwiches: wraps, Hot Pockets, pizza bagels stuck together, calzones and dumplings. Gutterman stands by her original statement, per the following reasoning: "A carb 'holder' for any meat and/or veggie 'filling' fulfills the platonic requirements for sandwich-ness."
The editors at HuffPost Taste obviously have strong opinions. Executive Food Editor Kristen Aiken insists a sandwich must have two layers of carbs surrounding a layer of fillings. Food Editor Julie Thomson believes, "a wrap will never, ever be a sandwich," while Healthy Living and Taste Editor Kate Bratskeir points out that "a wrap could loosely be considered a sandwich. If a friend said to you, 'I'm gonna grab a sandwich,' and returned with a wrap, you'd not think twice." Staff Writer Joe Satran negates the bread bowl as as a possible sandwich because not only do you eat bread bowls with a spoon, you don't get the filling and the container in the same bite. He wonders, however: If sandwiches require bread, where do falafel and hummus pitas stand? "The bread isn't sliced!" Satran says.
It's a universal debate, of course -- one that has existed as long as sandwiches, whatever they are, have been around. Our friends at The Meat Hook in Brooklyn were outraged at the thought that a wrap could be considered a sandwich. Sandwich master Ashley Berman argues that wraps and sandwiches appear in different categories on menus everywhere. Same goes for burritos.
Sausage Maestro and co-owner of The Meat Hook, Ben Turley, puts it this way: "I guess sandwiches are like pizza. A calzone is like a pizza, but it's not a pizza. That's why it's called something different. Similar to the sandwich/wrap conundrum. But sandwiches, like pizza, are endlessly versatile (toppings, breads, sauces, etc.) so it blurs the lines between what it is, what it can be, and what it can't be ever."
Luckily for those of us who live in New York, the New York State Department of Taxation has clarified the matter, as Gothamist reported this summer. For the record, they include wraps. They also include items as specific as "simple as a buttered bagel or roll, or as elaborate as a six-foot, toasted submarine sandwich," Gothamist notes.
So what do you think? Is a dumpling a sandwich? Help us out and tell us what you think, 'cuz right now we're kind of stuck:
@alexiskleinman @AlexCKaufman @LauralizHibbard @amandagutterman @tylerkingkade All I've learned from this is that Hot Pockets are sushi

— Kim Bhasin (@KimBhasin) February 3, 2015
Oh. And this:
こうなった瞬間に、
その場にいた10人全員が
「すげー!?!!!」って叫んでた pic.twitter.com/PYcRgt9HRv

— Near_13 (@Near_13) February 9, 2015
Please weigh in for the sake of sandwich eaters everywhere.
Want to read more from HuffPost Taste? Follow us on Twitter, Facebook, Pinterest and Tumblr.
BEFORE YOU GO
PHOTO GALLERY
Sandwiches Galore!