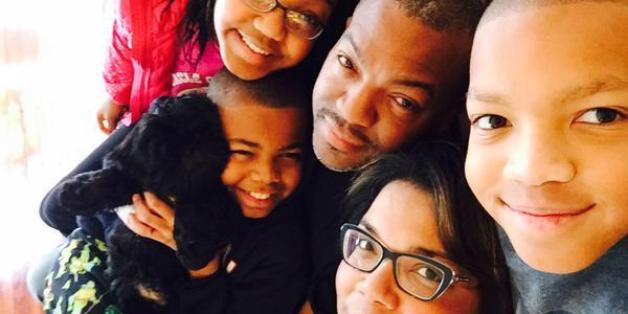 Whether you've got a valentine or not, you can't deny that love is a beautiful thing.
We asked the Black Voices family to celebrate Valentine's Day with us, showing us the love and joy they share with the people most dear to them.
Let's celebrate Black love this Valentine's Day! Tweet us your photos with the people you love most, & we may feature on BV! #BVLove

— HuffPost BlackVoices (@blackvoices) February 12, 2015
If the responses we received taught us anything, it's that Dr. Maya Angelou knew exactly what she was talking about when she told the world, "Love recognizes no barriers. It jumps hurdles, leaps fences, penetrates walls to arrive at its destination full of hope."
Check out some of the sweetest BV love in the responses below.
@blackvoices my love @Shayna_Maree and I on the best day of our lives #BVLove pic.twitter.com/IcFdeC0C4E

— James D. Williams II (@jdwillii) February 12, 2015
@jdwillii embedded via Twitter
@blackvoices this is who I love #BVLove @mackjenniferart pic.twitter.com/yF8kWLTD2E

— Kurtis Watkins (@kurtiswatkins) February 12, 2015
@kurtiswatkins embedded via Twitter
#BVLove my beautiful line sisters whom I love and cherish deeply @blackvoices 💗💚 pic.twitter.com/VLIiBjjIOF

— Miss Brittany Rose (@ThatQueenBee) February 12, 2015
@ThatQueenBee embedded via Twitter
#BVLove pic.twitter.com/iHrCxK4IWq

— Dorothy Reed (@skegeelady) February 12, 2015
@skegeelady embedded via Twitter
@blackvoices #BVLove pic.twitter.com/v46tZuTG0S

— Earnest DeLoach (@AttyEADeLoach) February 13, 2015
@AttyEADeLoach embedded via Twitter
@blackvoices - My Forever Valentine! #ValentinesDay #BVLove pic.twitter.com/0mZdKumRZm

— Summer Martin (@summergory) February 13, 2015
@summergory embedded via Twitter
@blackvoices #BVLove Kelly Higgins-Rucker and Kevin Rucker.. Married 18 years pic.twitter.com/vkORQASPKz

— Kelly Higgins-Rucker (@Ariessista) February 13, 2015
@Ariessista embedded via Twitter
@blackvoices 8yrsold when we met 50 now! 25yrs of marriage 3 beautiful children SoulMates For Life! #BVLove #Autism pic.twitter.com/lkG26WAIPy

— Linette Gill (@justsayit65) February 11, 2015
@justsayit65 embedded via Twitter
"@blackvoices:Tweet us your photos with the people you love most, & we may feature on BV! #BVLove" #Laramores pic.twitter.com/5pjasmXPbZ

— Aimee A'Laine (@newjoynjourney) February 12, 2015
@newjoyjourney embedded via Twitter
The Huzzband @superscrap72 and Me! #BVLove 14 yrs of Bliss! pic.twitter.com/vsg0YcGjTZ

— Scooter Phoenix (@ScooterPhoenix) February 12, 2015
@ScooterPhoenix embedded via Twitter
@blackvoices I am crazy about my niece and nephew! Love them SO MUCH! :-) Pic taken b/f visit to #whitehouse #BVLove pic.twitter.com/c9ycje7nxF

— Tim Pulliam (@TimPulliam) February 13, 2015
@TimPulliam embedded via Twitter
BEFORE YOU GO
PHOTO GALLERY
13 Love Quotes By Men, For Men