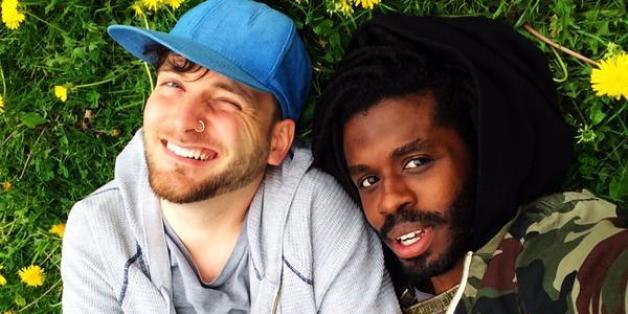 Happy Valentine's Day!
Sure, mainstream culture has force-fed us a lot of bullshit about what February 14 is supposed to mean but as queer people, we've never been very good about listening to what the mainstream tells us about anything.
So instead of giving you a big box of barfy drug store chocolates or making you feel bad if you aren't dating (or married to) someone, we have a gift for you that celebrates love in the most beautiful and perfect way: queer people sharing photos of the people (and sometimes pets) they love.
We asked our readers to tweet a photo using the #QueerLoveLooksLike hashtag and below you'll see what came our way. We've got to admit all this love in our Twitter feed had us squealing like a woman in a jewelry store commercial who just opened a tiny felt box with a big juicy cubic zirconia inside it -- only not.
So check out all of the love below and then send a note or give a call to someone you love and let them know how much they mean to you. And if you want to add your photo to the list, tweet your own pic using #QueerLoveLooksLike and we'll add a second round of photos next week.
#QueerLoveLooksLike sharing photos of twinning stuffed animals because we are miles away. #loveislove pic.twitter.com/5dI885WA8e

— K (@KenniTerrell) February 9, 2015
@KenniTerrell embedded via Twitter
@huffpostgay #QueerLoveLooksLike my fiancé and I. 10-3-15 can't come fast enough! pic.twitter.com/Go6stQgmUg

— Erin Smith (@emsmith_13) February 9, 2015
@emsmith_13 embedded via Twitter
@huffpostgay February is V-Day and Texas rodeo time #QueerLoveLooksLike pic.twitter.com/yBAEDRFszV

— Laine (@galileanmoon) February 10, 2015
#QueerLoveLooksLike on our traditional Friday night date night that took place in New Orleans! @huffpostgay pic.twitter.com/VI4ykaux21
— A Vanclief (@Ahiggins23) February 10, 2015
@Ahiggins23 embedded via Twitter
@huffpostgay @glaad #QueerLoveLooksLike pic.twitter.com/SqbIK2RhxE

— Lane Marchant (@LaneStreet) February 10, 2015
@LaneStreet embedded via Twitter
@huffpostgay My husband and our "daughter" #QueerLoveLooksLike pic.twitter.com/UVFZrho6St

— Charles Rios (@RuralJuror13) February 10, 2015
@RuralJuror13 embedded via Twitter
#QueerLoveLooksLike pic.twitter.com/80Bf8axWhF

— John A Cobb (@JohnACobb1) February 10, 2015
@JohnACobb1 embedded via Twitter
#QueerLoveLooksLike @HaydonTaylor @triptards pic.twitter.com/gbffQbcfyF

— jennifer whitehead (@chloeleisabetta) February 10, 2015
@choleleisabetta embedded via Twitter
@huffpostgay #QueerLoveLooksLike pic.twitter.com/ZuUQ5sY14n

— David Jennings (@d84jennings) February 10, 2015
@d84jennings embedded via Twitter
#QueerLoveLooksLike pic.twitter.com/ZH35Z9w4lx

— Doug Hinners (@scrubdoogie) February 10, 2015
@scrubdoogie embedded via Twitter
@huffpostgay My wife and I after we got married 1-31-15 #Florida #QueerLoveLooksLike pic.twitter.com/Dla1FSQ9uq

— Kaja (@kj_kaja) February 10, 2015
@kj_kaja embedded via Twitter
@huffpostgay pic of me and my partner of almost 10 years #QueerLoveLooksLike pic.twitter.com/5Sd9ZZepJT

— James H (@jahdoughboy) February 10, 2015
@jahdoughboy embedded via Twitter
Married 12-13-14! #QueerLoveLooksLike pic.twitter.com/7hHDA7O7hj

— Doug Hinners (@scrubdoogie) February 10, 2015
@scrubdoogie embedded via Twitter
@huffpostgay #QueerLoveLooksLike this... pic.twitter.com/5DdpsZGmNV

— TMMx - Región Bajío (@TMMxRB) February 10, 2015
@TMMxRB embedded via Twitter
@thethompsonator @huffpostgay #QueerLoveLooksLike christmas w/ the woman with whom you've built ur home and ur life. pic.twitter.com/H4tIbZxywk

— Andi France (@daandilion) February 10, 2015
@daandilion embedded via Twitter
11 years together! My boo 😍@huffpostgay #QueerLoveLooksLike pic.twitter.com/Aa20L9siON

— Dayna K. (@let_hate_die) February 10, 2015
@let_hate_die embedded via Twitter
@huffpostgay @MartyByrneMusic #QueerLoveLooksLike pic.twitter.com/cXQpn7nJnG

— Máirtín Mac Ullach (@Martinmcc1) February 10, 2015
@Martinmcc1 embedded via Twitter
#QueerLoveLooksLike this! 2 1/2 years and loving every minute! pic.twitter.com/1xpZ4y7J5c

— Justin Tindall (@jwtindall) February 10, 2015
@jwtindall embedded via Twitter
@huffpostgay @glaad #QueerLoveLooksLike pic.twitter.com/2YZgaezUBq

— Michelle Brown (@MyChangeIAm) February 10, 2015
@MyChangeIAm embedded via Twitter
Poly today, poly tomorrow, poly forever #QueerLoveLooksLike pic.twitter.com/LJj3gffT7S

— ianna drew urquhart (@drewiepoodle) February 11, 2015
@drewiepoodle embedded via Twitter
@huffpostgay #QueerLoveLooksLike pic.twitter.com/aLjot6ABAu

— harry (@hawkvshandsaw) February 11, 2015
@hawkvshandsaw embedded via Twitter
@huffpostgay #QueerLoveLooksLike She's (@adrianesf) my best friend! <3 pic.twitter.com/WLvICKdHSS

— Anita R. (@Annestasia) February 11, 2015
@adrianesf embedded via Twitter
@huffpostgay #QueerLoveLooksLike pic.twitter.com/TM3A3yfPWO

— Kai Anthony (@KaiAnth) February 11, 2015
@KaiAnth embedded via Twitter
@huffpostgay #QueerLoveLooksLike pic.twitter.com/fqbUnbxwPI

— Michelle Smith❤ (@peace4me) February 12, 2015
@peace4me embedded via Twitter
#QueerLoveLooksLike this @huffpostgay pic.twitter.com/ScdIKprVso

— Maya Rupert (@MayaRupert) February 11, 2015
@MayaRupert embedded via Twitter
My fiancée's laugh is contagious! "Laughter is the shortest distance between 2 people" - V Borge #QueerLoveLooksLike pic.twitter.com/Qxd09JsmqE

— Nichols Bleckley (@nicholsbleckley) February 11, 2015
@nicholsbleckley embedded via Twitter
@huffpostgay #QueerLoveLooksLike pic.twitter.com/yNfMQLCuoj

— Amy Wootten (@lesseralto) February 11, 2015
@lesseralto embedded via Twitter
@huffpostgay #QueerLoveLooksLike Waiting in line for amiibos while wearing our kigus. pic.twitter.com/Lg0OpzQ82d

— ǝnɹ (@AstroWuff) February 12, 2015
@AstroWuff embedded via Twitter
@allanbrocka This is me, because I love myself! #QueerLoveLooksLike Lady Gaga pic.twitter.com/DZgknFDw7O

— Um Gozo Simpático (@BetinhoThisWay) February 12, 2015
@BetinhoThisWay embedded via Twitter
#QueerLoveLooksLike this @huffpostgay pic.twitter.com/gSCcyz06sl

— Shirtless Jay (@shirtlessjay) February 12, 2015
@shirtlessjay embedded via Twitter
@huffpostgay #QueerLoveLooksLike this going on 11 years together and it gets better every year pic.twitter.com/FgmTggEqxC

— Michael (@omosessuale25) February 12, 2015
@omosessuale25 embedded via Twitter
@huffpostgay #QueerLoveLooksLike pic.twitter.com/evnODpdXTA

— Kyle Ord (@TheRealKyleOrd) February 12, 2015
@TheRealKyleOrd embedded via Twitter
We would love to be! #QueerLoveLooksLike pic.twitter.com/IhKbJPFl2X

— Steve & Richard (@ADWedding) February 12, 2015
@ADWedding embedded via Twitter
My valentine 😘 #QueerLoveLooksLike pic.twitter.com/VlZw3eYJ12

— rob_shingle (@ShingleRob) February 12, 2015
@ShingleRob embedded via Twitter
@huffpostgay #QueerLoveLooksLike pic.twitter.com/mfh7azoS2i

— Lynds McCann (@lynzmccann) February 12, 2015
@lynzmccann embedded via Twitter
#QueerLoveLooksLike pic.twitter.com/KD5oLRs86r

— Michelle Walters (@YourAuntCrazy) February 12, 2015
@YourAuntCrazy embedded via Twitter
@huffpostgay @glaad #QueerLoveLooksLike #21years pic.twitter.com/CqLzbNmKS6

— D (@Dennystud) February 12, 2015
@Dennystud embedded via Twitter
The Sweetest Love males our Hearts Smile!! #QueerLoveLooksLike pic.twitter.com/KcNdbUhWAp

— Ojetta Brown (@OjettaBrown) February 12, 2015
@OjettaBrown embedded via Twitter
#QueerLoveLooksLike pic.twitter.com/lRFxELnnk9

— Bethany Lim (@jobpopcicle) February 12, 2015
@jobpopcicle embedded via Twitter
@huffpostgay #QueerLoveLooksLike my husband and I taking a #selfie at our wedding! #HitchedInHamOnt pic.twitter.com/7WoL80EvH4

— Christopher Godwaldt (@chgodwaldt) February 12, 2015
@chgodwaldt embedded via Twitter
#QueerLoveLooksLike pic.twitter.com/m67UzEdh3A

— Douglas K. Janssen (@HIVplusYOUandME) February 12, 2015
@HIVplusYOUandME embedded via Twitter
Georgia Husbands #QueerLoveLooksLike @huffpostgay @GeorgiaEquality pic.twitter.com/xmyLw3r8yw

— Kenneth Larsen (@larsen_ken) February 12, 2015
@larsen_ken embedded via Twitter
#QueerLoveLooksLike Beau Magazine pic.twitter.com/H3DImF4By0

— Nichols Bleckley (@nicholsbleckley) February 12, 2015
@nicholsbleckley embedded via Twitter
#QueerLoveLooksLike me and my fiancée Annie, after she proposed to me on top of a hill in the Highlands. pic.twitter.com/04viqcNz4U

— Kirsty Logan (@kirstylogan) February 12, 2015
@kirstylogan embedded via Twitter
#QueerLoveLooksLike love my boyfriend 💚💚 pic.twitter.com/nDeb33a9qk

— Caleb Peterson (@calebderella) February 12, 2015
@calebderella embedded via Twitter
My girl #QueerLoveLooksLike pic.twitter.com/asw40wUB7w

— Eve (@eve_hartley) February 13, 2015
@eve_hartley embedded via Twitter
#QueerLoveLooksLike pic.twitter.com/iUKqBmPNZF

— Charlie Harding (@MrCHarding) February 13, 2015
@MrCHarding embedded via Twitter
@huffpostgay #QueerLoveLooksLike pic.twitter.com/EGEI5rNC6c

— Nancy K. Brodzki (@NancyKBrodzki) February 13, 2015
@NancyKBrodzki embedded via Twitter
.@huffpostgay #QueerLoveLooksLike these two crazy lovebirds pic.twitter.com/dCETYgH6Vx

— Archie Cubarrubia (@coobs) February 13, 2015
@coobs embedded via Twitter
My life #QueerLoveLooksLike pic.twitter.com/UC9coDklFB

— Yazy Tauk (@YazyTauk) February 13, 2015
@YazyTauk embedded via Twitter
@huffpostgay #QueerLoveLooksLike ❤️🌈 pic.twitter.com/BpEXd5SUKV

— Amanda Yamate (@amandayamate) February 13, 2015
@amandayamate embedded via Twitter
@huffpostgay #QueerLoveLooksLike pic.twitter.com/HygkGppvAY

— Gary Garrett (@garypgarrett) February 13, 2015
@garypgarrett embedded via Twitter
#QueerLoveLooksLike pic.twitter.com/Sep3q4N6r7

— Russ Exlos-Raber (@RussRaber) February 13, 2015
@RussRaber embedded via Twitter
#QueerLoveLooksLike pic.twitter.com/TWeqeJOhDH

— Jimmy Owen (@JimmyGOwen) February 13, 2015
@JimmyGOwen embedded via Twitter
#queerlovelookslike pic.twitter.com/Zstqg5DnPT

— Jimmy Owen (@JimmyGOwen) February 13, 2015
@JimmyGOwen embedded via Twitter
#queerlovelookslike pic.twitter.com/4vcZrKrhWo

— Jimmy Owen (@JimmyGOwen) February 13, 2015
@JimmyGOwen embedded via Twitter
#queerlovelookslike pic.twitter.com/ynkEcWWdWC

— Jimmy Owen (@JimmyGOwen) February 13, 2015
@JimmyGOwen embedded via Twitter
#QueerLoveLooksLike xx pic.twitter.com/oL6fXyiYwZ

— James Mackenzie (@JamesMack1971) February 13, 2015
@JamesMack1971 embedded via Twitter
#QueerLoveLooksLike pic.twitter.com/FPIIrfQI12

— Andrew and Antony (@andrewantony47) February 13, 2015
@andrewantony47 embedded via Twitter