Talk about a lasting romance. This couple couldn't keep their hands off each other -- for almost 6,000 years.
The grave of two Neolithic skeletons locked in a tight embrace was discovered in a Greek cave in 2013, and now DNA testing has determined each skeleton's sex, revealing a man and woman, the Associated Press reported.
The skeletons -- found lying in a fetal position, seemingly spooning each other -- are estimated to be around 5,800 years old.
(Story continues below photo.) The remains of a man and woman in their early twenties, buried as they died nearly 6,000 years ago -- locked in a tight embrace in Diros, southern Greece.
Anastassia Papathanassiou, a member of the excavation team that unearthed the grave, told the AP that the couple likely died holding each other. The grave sits near the Alepotrypa Cave, part of the Diros Cave complex in southern Greece.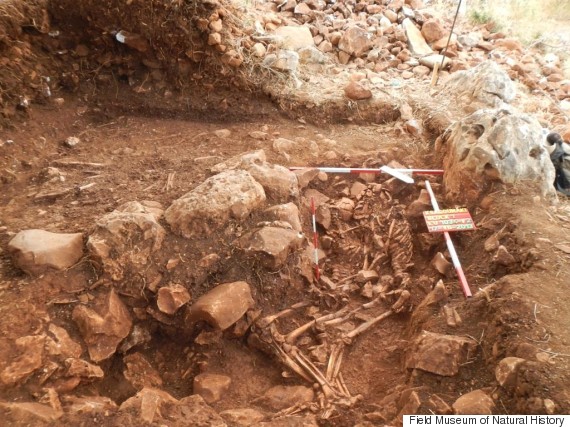 "Double burials in embrace are extremely rare," the Greek Ministry of Culture said this week of the finding, according to Discovery News. "The skeletons of Diros represent one of the oldest, if not the oldest, found to this date."
Many questions remain as to the couple's story, including the cause of their death and whether they were related. Papathanassiou told the AP that further DNA testing will be conducted on the remains.
BEFORE YOU GO