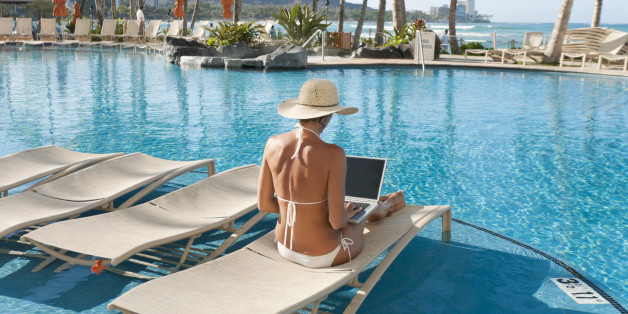 If you're not able to unplug every time you travel (and let's face it: most of us aren't), then you'll need to stay somewhere with great Wi-Fi. Some might assume that every modern hotel offers a free Internet connection, but sadly that is not the case.
And the best hotels for free wireless connections are not, in fact, what you might think: Best Western is a power player; Quality Inn's connection is super speedy. And those swanky hotels? They're not always what they're cracked up to be.
It should be noted that sometimes not every hotel in a particular chain has free Wi-Fi, and sometimes free Wi-Fi may only be available in the hotel's common areas, not in the rooms. But by and large, there are some brands that can be trusted when you need a speedy, free connection. Here's the breakdown.
BEST WESTERN
Of all hotel chains that advertise free Wi-Fi, Best Western is among the very best, according to a recent study from Hotel WiFi Test, a site devoted entirely to testing Wi-Fi service. The company's research found that nearly all hotels in the Best Western chain have functioning, free Wi-Fi, and it's faster than what you'll find at Marriott or Sheraton.
QUALITY INN
Out of 26 hotel chains that Hotel WiFi Test studied, Quality Inn had the number-one fastest free Wi-Fi. Add a cup of their free coffee to the mix, and you'll power through any business trip.
HYATT
As of Feb. 14, 2015, Hyatt is offering free Wi-Fi at locations worldwide. No reports yet on how speedy the service is, but it exists. And THAT, dear friends, is a game-changer in itself.
LOEWS
Last year, Loews ushered in what will hopefully be a new era of luxury hotels offering free Wi-Fi. You'll find free Internet at their super-swanky properties all over North America.
RAMADA
As far as budget hotels go, this is about as best as free Wi-Fi can get. Over 75 percent of Ramada hotels have free Wi-Fi available, Hotel Wifi Test found, which is better than many chains who advertise free Wi-Fi but don't offer it in every location. Ramada's free Wi-Fi is also incredibly speedy, beat out by just a few other chains.
BEFORE YOU GO
PHOTO GALLERY
Best Budget Hotels