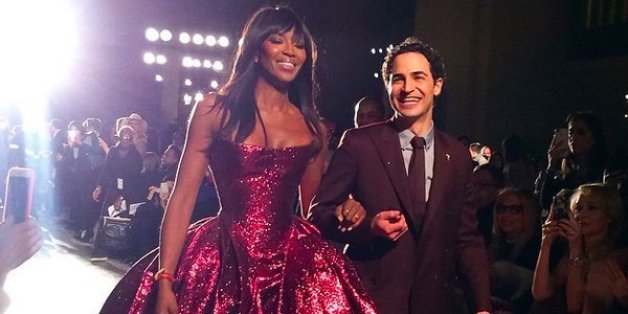 Sorry, everyone at New York Fashion Week. Naomi Campbell just stole your thunder. With good reason, of course.
The gorgeous, ageless beauty closed out Zac Posen's show Monday night in a breathtaking, magenta, sparkly, perfectly Zac Posen gown with the designer himself in tow. Naturally, the Internet couldn't contain itself. Tweets, Instagrams and e-mails started circulating immediately, proving once again that this is truly Naomi's world and we're just living in it.
You may have gay men to thank for your life, Naomi, but you're giving us life in that dress. Take a look at some of our favorite reactions below.
NAOMI FOR PRESIDENT

— HuffPostStyle (@HuffPostStyle) February 17, 2015
Major model, major dress ❤️ @NaomiCampbell @Zac_Posen #NYFW pic.twitter.com/PaPnuR1ksW

— MODELINIA (@Modelinia) February 17, 2015
Reason why our photographer fainted today? The one @NaomiCampbell closing the @Zac_Posen show: http://t.co/zfGByK9k5p pic.twitter.com/A3wXBFWA7m

— NOWFASHION (@NOWFASHION) February 17, 2015
Boss lady Naomi closes the show. And we're done here. #NYFW pic.twitter.com/jSpSYI4Hot

— Simone S. Oliver (@SimoneSOliver) February 17, 2015
What happens when you put @Zac_Posen and Naomi together. Chic, chic happens! #FashionFlock ##MFW pic.twitter.com/6o6MuLGOZW

— Michael Carl (@carlscrush) February 17, 2015
BEFORE YOU GO
PHOTO GALLERY
NYFW Street Style