A New Jersey man who allegedly crashed while driving drunk is also accused of making an icy patch the road in an attempt to make the accident look as if it were caused by dangerous road conditions.
A friend is accused of drunkenly helping with the plan that could have put other motorists at risk, police said.
Police in Sparta, New Jersey, arrested Brian Byers, 20, on Saturday, several hours after he allegedly drove through a stop sign and crashed a 2001 black BMW into a guard rail, FoxCt.com reports.
After the accident, police said Byers drove the car, which was registered to a family member, to his house about a mile away.
Byers allegedly went back to the accident scene with a friend, Alexander Zambenedetti, 20, and two five-gallon buckets filled with water. Police said the duo poured the water over the intersection to create a black ice slick on the road, according to NBC New York.
Sparta Police officer C.J. Grauerholz discovered the accident when he saw Byers walking towards a car that was idling in the middle of the road.
The officer saw Zambenedetti in the driver's seat without a shirt even though the temperature was 1 degree.
Zambenedetti told the officer his shirt got soaked after he fell down. The officer noted two five-gallon buckets in the car that still had some water in them, NJ.com reports.
Investigators said the men intended to report the accident was because of the black ice and not because of Byers' alleged drinking.
Police said the ice was so bad the Department of Public Works had to dump a half ton of salt to make the street safe, according to DailyRecord.com.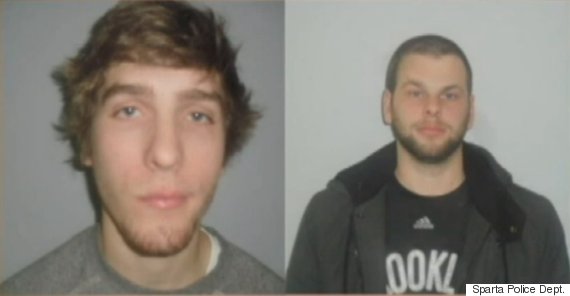 Alexander Zambenedetti and Brian J. Byers
Byers was charged with driving while intoxicated, careless driving, failure to stop at a stop sign, leaving the scene of an accident, failure to report an accident and disorderly conduct for creating a dangerous condition by purposely icing the intersection, police said.
Zambenedetti initially denied operating the car even though he was in the driver's seat and the engine was running, according to the New Jersey Herald.
Zambenedetti failed a variety of field sobriety tests and got charged with driving while intoxicated, careless driving and failure to wear a seatbelt.
The two were released a few hours later to sober adults, and are due in court on Thursday.
Like Us On Facebook |

Follow Us On Twitter |

Contact The Author
BEFORE YOU GO
PHOTO GALLERY
Too Much To Drink?