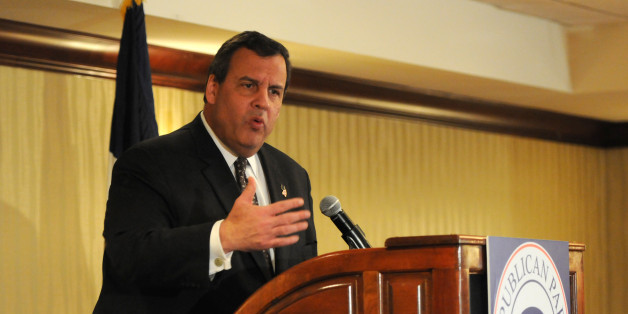 Hillary Clinton enjoys a huge lead over Chris Christie in his home state. Americans are unhappy with how Obama is handling ISIS. And it's all within the margin of error for Republicans in the early primary states. This is HuffPollster for Tuesday, February 17, 2015.
CHRISTIE TRAILS CLINTON IN NEW JERSEY - Hillary Clinton leads Gov. Chris Christie among New Jersey voters by 23 points, according to a Rutgers-Eagleton poll released Tuesday. Fifty-eight percent of respondents say they would vote for Clinton, while 35 percent would vote for Christie. Clinton holds similar leads over former Florida Gov. Jeb Bush (R) and Wisconsin Gov. Scott Walker (R). Eighty percent of New Jersey voters say that the country is ready for a female president, and a majority feel Clinton, specifically, has the right experience, demeanor and "look" to make a good president. [Rutgers]
The results mark a shift away from Christie since last summer, when Clinton held a smaller, 11-point lead over Christie in Rutgers-Eagleton's polling. Back then, independents were split about evenly between Christie and Clinton; in the latest survey, they went for Clinton by a 23-point margin. Republicans remained largely in Christie's camp.
Other New Jersey pollsters have found a similar trend. A Monmouth poll released in early February found Clinton consider to be better presidential material by a 26-point margin, with Clinton attracting the majority of independents and a significant fraction of Republicans.
AMERICANS DISAPPROVE OF OBAMA'S HANDLING OF ISIS - Alexandra Jaffe: "Americans are increasingly unhappy with President Barack Obama's handling of ISIS, and a growing share of the nation believes that fight is going badly, according to a new CNN/ORC survey released Monday. The CNN/ORC poll found 57% of Americans disapprove of how Obama is handling the threat posed by ISIS, a significant decline in support for the President over the past few months. In late September, that number was 49%. Fifty-seven percent disapprove of his handling of foreign affairs more broadly, and 54% disapprove of how the President is handling terrorism. Another 60% rate Obama negatively on his handling of electronic national security. The declining approval ratings for Obama on national security come as a weekend of international turmoil further underscores the growing threats abroad." [CNN]
NBC/MARIST POLLS IA/NH/SC - Mark Murray: "Less than a year before the first presidential contests begin, a trio of new NBC News/Marist polls show that the Republican race is wide open in the early nominating states of Iowa, New Hampshire and South Carolina. In fact, seven different possible Republican candidates get double-digit support in at least one of the states. But only two candidates — former Florida Gov. Jeb Bush and Wisconsin Gov. Scott Walker — are in double digits in all three states. By comparison, the Democratic nomination contest is much less competitive in these three states. In Iowa, former Secretary of State Hillary Clinton leads Vice President Joe Biden by more than 50 points, 68 percent to 12 percent. She's ahead of Sen. Bernie Sanders, I-Vt., by the same margin in New Hampshire, 69 percent to 13 percent. And in South Carolina, Clinton has a 45-point advantage over Biden, 65 percent to 20 percent. The NBC/Marist polls did not include Sen. Elizabeth Warren, D-Mass., in these trial heats because she continues to insist — in both the present and future tenses — that she won't be running for president in 2016." [NBC, full results via Marist]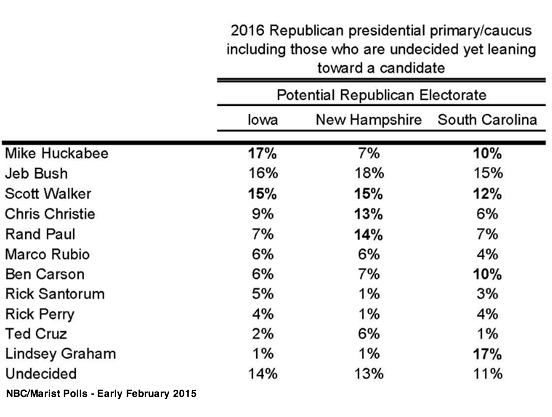 Reactions to early 2016 horse race polls:
-Frank Luntz (R): "Iowa 2016: Mike Huckabee (17%) currently holds a slim lead over Scott Walker (16%) and Chris Christie (15%)." [@FrankLuntz]
-Oliver Willis: "Dont say someone 'leads' in a poll where they have 18% support and the next guy has 17 or 16%. come on." [@owillis]
-Logan Dobson (R): "The key 2016 poll result that's missing is that 79% of 2016 poll respondents only think about the 2016 elections when asked by pollsters." [@LoganDobson]
-Dan Balz: "The reality is that this is an inside game, carried on by a small number of people — candidates seeking to impress donors or commentators; a cadre of activists who can't get enough of politics at any time of the cycle; journalists hungry to get the campaign moving ever faster. People seize on early polls at the same time they offer a caveat that early polls don't mean much. So now Scott Walker leads in Iowa? He does, but with just 16 percent support — and only one point ahead of Rand Paul and just three points ahead of former Arkansas governor Mike Huckabee. It's all margin of error." [WashPost]
POLITICO POLLS IA/NH INSIDERS - James Hohmann: "Most Iowa insiders believe Scott Walker would win their state's Republican caucuses if they were held this week. But they're not this week, and virtually none of the most influential thought leaders in the Hawkeye State believe that the Wisconsin governor will sustain his recent bounce in polls. This is one of several intriguing findings in the debut survey of The POLITICO Caucus. More than 100 of the most plugged-in activists, operatives and elected officials in Iowa and New Hampshire have agreed to answer a weekly survey over the next year, which will be published here every Friday. It's a diverse mix of powerful figures from across the political spectrum, including party chairmen, members of Congress, radio hosts and rising stars who command loyal followings....The consensus across this group is that Hillary Clinton is almost guaranteed to become the Democratic nominee. Only four of 70 who answered guessed that a Democrat other than Clinton will ultimately win their state." [Politico]
SLIGHTLY HIGHER RATINGS FOR NEW CONGRESS - Andrew Dugan: "One in five Americans say they approve of the way Congress is handling its job, slightly higher than the 16% approval in the final reading for the 113th Congress, from December. Seventy-five percent of Americans disapprove of Congress…A major reason why approval of Congress increases after a change in party control is that approval ratings among supporters of the new majority party surge. Currently, 27% of self-identified Republicans say they approve of the way Congress is handling its job, up notably from the percentage who said so in January (17%) or December (12%). Democrats' approval rating of Congress is 17% in February and independents' is 18%, basically unchanged compared with January and December."
[Gallup]
HUFFPOLLSTER VIA EMAIL! - You can receive this daily update every weekday morning via email! Just click here, enter your email address, and click "sign up." That's all there is to it (and you can unsubscribe anytime).
TUESDAY'S 'OUTLIERS' - Links to the best of news at the intersection of polling, politics and political data:
-Americans increasingly see Russia as the top U.S. enemy. [Gallup]
-Fifty-eight percent of Americans say that action against ISIS is going poorly. [CNN]
-Americans feel better about their personal finances than they did a year ago. [Gallup]
-Sixty-eight percent of Cuban Americans favor expanded trade with Cuba. [Sun Sentinel]
-Nate Cohn digs deeper in the mystery of lower voter registration for older black voters. [NYT]
-For President's Day, Fact Tank explores approval ratings from Eisenhower to Obama. [Pew]
-In New Hampshire, President Obama's job approval rating remains a low 42 percent. [UNH]
-In Maryland, opposition to casinos grows. [WashPost]
-Almost 40 percent of Israelis are thinking of emigrating. [Haaretz]
-A touchscreen survey of dogs (yes, dogs) shows they can recognize a smiling human face. [National Geographic via @JHenning]

BEFORE YOU GO
PHOTO GALLERY
Chris Christie Is Absolutely Shocked