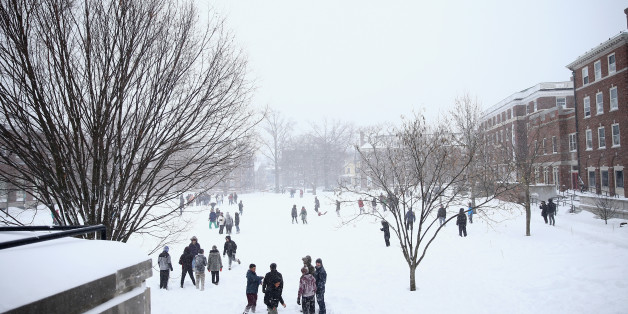 Climate change activists at Harvard University told The Huffington Post this week that they feel optimistic heading into a court hearing Friday on a lawsuit that aims to get the school to divest from fossil fuel companies.
Seven students at the university filed the suit in 2014 in an effort to get the nation's richest college to stop what they see as inherent support for an industry that contributes to global warming. The suit claims the Ivy League school's governing body, the Harvard Corporation, is violating its duties as a nonprofit public charity by investing in gas, coal and oil companies. It also says that Harvard has breached its duties by putting profit ahead of the serious and immediate threat of climate change -- which Ted Hamilton, one of the plaintiffs in the suit, notes is "causing grave harm to future generations."
"Regardless of the final decision in our case, presenting our claims in a legal arena forces the Harvard Corporation to defend its actions in furtherance of climate change," added Hamilton, a Harvard Law School student.
The hearing on Friday will focus on Harvard's motion to dismiss the suit. It is scheduled one week after 34 students staged a 24-hour sit-in at Harvard's administrative offices to protest the university's investments in fossil fuels, and just as more alumni begin joining the student activists.
"The goal of the sit-in last week was first to bring the issue quite literally to the Harvard administration's doorstep so it couldn't be ignored," said Talia Rothstein, a sophomore involved with student-led activism group Divest Harvard. Rothstein said she believes this confrontational approach is needed to get Harvard to budge, and that more demonstrations are planned for April with increased alumni participation.
The university did not respond to request for comment from HuffPost. Harvard has steadfastly refused to divest from fossil fuel companies in the past, and in the last quarter even increased its investments in oil and gas companies, much to the chagrin of certain Harvard alumni groups.
The group Divest Harvard Alumni accused the university of "amorally investing ... in a catastrophic future" in a Jan. 21 letter signed by 82 Crimson graduates.
The Harvard Radcliffe Club of Vermont became the first regular Harvard alumni club recently to endorse divestment through a vote of their members, with 76 percent voting in support of a divestment resolution. Club members sent a letter on Feb. 9 to the university and the governing corporation explaining how "unusual" it was for them to pressure the Harvard administration about this.
According to the student activists, more than 200 faculty and 1,000 alumni have signed on in support of divestment.
But Ben Franta, a Harvard Ph.D. candidate in applied physics, said not all alumni are supportive of activists like him.
"Handing out informational flyers on divestment at alumni reunions, for example, I've had alums -- usually well-heeled -- tell me that I should be ashamed of myself," Franta said. "But these alumni usually don't have the courage of their convictions. They'll snipe and 'troll,' so to speak, but they won't engage in a real discussion, and they won't organize. They won't fight. I'm not that worried about them."